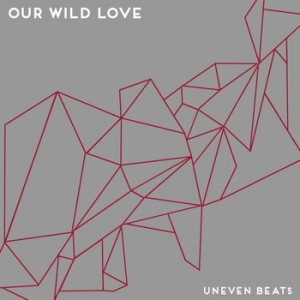 When I reviewed "Low" some months ago I described it as falling somewhere between Muse and Depeche Mode. Uneven Beats continues in this new direction with veins of new wave, indie, and Top 40 twisting through the flexed, sinewy muscle of Brit-inspired alternative rock. Amid the bass, smothered in fuzz and distortion, thudding drums, twinkling keyboards, and layered waves of synthesizer, Crider defiantly belts, "They tied up my hands / They think that can hold me down." Our Wild Love charges out of the gate and grabs you by the throat. It's a new sound and they aren't going to give you time to think about it.
Our Wild Love is Luis Mieja on guitar, Paul McCorkel on bass, and Duke Crider on vocals – all former members of Plain Jane Automobile. It's basically PJA sans a drummer (Paul lays down some organic drumming here and there). As Crider puts it, "Our Wild Love is our new band. PJA is on permanent hiatus. James, our drummer, decided to leave PJA, so we sat down to discuss continuing as PJA or something else entirely. So two drum machines, some keyboards, and countless hours of learning and experimenting later, OWL was born."
The music on Uneven Beats is stepped up from their successful previous band. It's bolder, more daring – yet refined and mature. They've turned the corner as a group. McCorkel's bass hacks and chisels at the meter with such intensity that it steps up from behind the scenes and puts its signature on every song. Meija's usual guitar heroics are subdued, weaving subtle tones intelligently between samples and synth lines. Crider's lyrics are more potent and stirring too. "I'll bite, and kick and scratch the door / Then turn to stone and sink below the sea / I'll camp out on the ocean floor / Just to get a glimpse from underneath" and "Gorgeous and lovely / Still battered and ugly /Explosions in my chest / Slow me down enough to / Catch my breath" convey both angst and passion, walking the fine line between poetry and nonsense that make rock lyrics so great (and tricky). Those tracks – "Money" and "Sleepwalking" respectively – are brilliant. "Money" might be the most pop-y and upbeat. It shimmies and swaggers its way into your heart through your ears. I found myself whaling (screeching?), "Steady feeeeeet / Make uneven beeeeeeats / You'll go running to the money / to the money." The somber entrance of "Sleepwalking" feels like it could be The National. This song is big and has heart. It reminds me of Coldplay only in that they were able to create grand and sweeping pop with the simplest of moving parts.
Pull all of this together with subtle songwriting nuance, dress it up with top-notch production and Uneven Beats leaves the Orlando scene, injecting itself directly into the mainstream musical conversation. Little touches adorn this EP from head-to-toe giving it an incredible sheen. From the modulated voices at the beginning of "Low" and the seamless change of gears at the end of "Disappear" that moves it into a sloshing, sludgy electro rock jam to the slick, sentimental outro of "Sleepwalking," Beats proves itself to be an excellent listen over and over again.

Our Wild Love on social media: