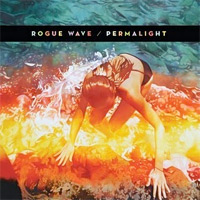 I expected Rogue Wave's next album would be the one that broke them into the "big time." With songs like the sweet "Eyes" on the Just Friends Soundtrack to "Lake Michigan" and the sublime "Chicago X 12″ on 2007′s Asleep at Heaven's Gate it was obvious they were poised for success – just not the way it comes across on the new Permalight. Their sound is more polished and leans toward sensitive emo-pop. In fact, it is scary how much they sound like Death Cab for Cutie – I mean JUST like them. This isn't necessarily bad because it isn't a slavish knock-off, but I expected an evolution closer to the sound they already established.
The album starts with a gentle, whimpering vocal and acoustic guitar that feels like The Beatles, then the song, "Solitary Gun," breaks out with a catchy, upbeat rhythm and the Death Cab vocals. The first single is "Good Morning (The Future)" and adds an electronic edge with synth and a backbeat that again harkens DCFC or the Postal Service. With every listen, the aforementioned resemblances melt away to expose a new sound and direction for Rogue Wave.
Tracks like "Sleepwalker," "Fear Itself," and especially "We Will Make a Song Destroy" hit hard. For me, these exemplify the sound I felt RW was crafting – taking their approach of simple, well constructed rock with a touch of melancholy and amplifying it. Permalight is an album that deserves more listens to breakthrough its initial impressions. The best albums always take awhile to sink in, right?
On another note, fans of the band, rockumentaries, or overall storytelling must check out D-Tour. What starts out as a chronicle of Rogue Wave and drummer, Pat Spurgeon's battle with kidney disease and the trials of patients on the human donor list evolves into a poignant and humbling story that Hollywood wishes it could write. Rogue Wave was always on my radar, but this film was able to endear them to me.

Originally written for REAX Online, February 25, 2010