I am continually blown away by The Pumpkin's (Billy and Jimmy) prolific nature. Shortly after the release of Zeitgeist comes American Gothic, an EP Corgan refers to as Zeitgeist +. Gothic is a short, but wonderful collection of acoustic music that continues the themes of Zeitgeist in contrast to the near neo-metal pummeling of the parent record.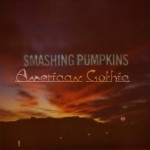 When I learned of the acoustic recordings, I anticipated the quiet soulful reflections on much of Billy's unreleased demo's and b-sides, but was overjoyed to hear Jimmy's explosive cadences ring in through the opening song, "Rose March."
The album continues delicately with "Again, Again, Again (the Crux)." Once more, Jimmy Chamberlin persists his visceral thundering, beginning with rim shots and building to a swirling, fierce attack. JC is hands-down the best drummer alive (maybe ever, and I know my drummers) at being ridiculously over the top without crushing the song. His relentless bashing churns like an engine bringing life and dynamics to music that is already ostentatious. "Pox" carries on with a deep, heavy acoustic groove and the album finishes with the sweet "Sunkissed."
All songs on this EP are clever, smooth, ethereal, and crisp. It is a fantastic follow-up to the alt-metal rage of Zeitgeist, continuing the pessimistic themes of the current U.S political and cultural state while embracing the renewed hope and energy of the band.
Article originally appeared in REAX #22, January 3 2007