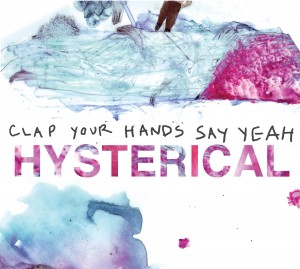 Hysterical, the new release from Clap Your Hands Say Yeah sounds anything but.  The album is refined and mature. It is closer to Some Loud Thunder being heavier on more elaborate orchestral-type pop arrangements than the thundering disco beats and clean bass lines adorned with jangly duel guitars that made their debut album remind me of an east coast Modest Mouse.
It is actually a nice compromise between the sounds of the first two albums.  On the first song, "Same Mistake," old disco beats marry-up nicely with new strings and the ever-constant forlorn and unintelligible vocals of Alec Ounsworth. The title track, "Hysterical," combines a quickened pace with a more soaring and tonal guitar approach inflating the song beyond mere indie whimper. Ounsworth's lyrics ring true with sentimental conviction as always on "Misspent Youth" as he sort of hits the nail on the head.  "Maniac" is the first song I hear that sounds like it would lend weight to a live show. "Into Your Alien Arms" feels like Talking Heads until it breaks out into a loud and feedback drenched solo outro a la Sonic Youth and "Ketamine and Ecstasy" is what I'm on right now – ha – no – it kind of sounds like The Cure with echo-y guitars conjuring feelings of 80's new wave.
"Into Your Alien Arms" by Clap Your Hands Say Yeah
Hysterical is getting critically pounded because a 5-year hiatus returned a safe, middle-of-the-road effort. I can see how it fails to achieve the charm of their first album and the wild experimentation of the second, but I feel they defined themselves by taking some of the best bits of those two approaches. It's an album that warrants more than one or two listens before all the nuance of the instrumentation and John Congleton's (Walkmen, David Byrne) production sinks in.