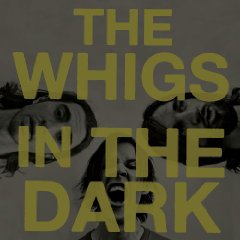 The little college town of Athens, Georgia has a rich and varied history of progressive rock music – from The B-52′s and R.E.M to the musical collective responsible for the likes of Neutral Milk Hotel and Elf Power. Danger Mouse is also an Athens transplant who began his stellar career in the humble little city. This rock pedigree is alive and well in Athens natives The Whigs.
The Whigs are back with their third official release in In the Dark. This album continues to refine and expand the approach of the little 3-piece outfit with a huge sound. They embrace the indie, low-fi, garage rock approach, but amp it up to arena volume. The Whigs create an aural aesthetic reminiscent of The Replacements or Camper van Beethoven with a slight southern twist, but played through the Smashing Pumpkins sound rig with powerful, competent drumming and a thick, comfy sonic snuggie of guitar.
In the Dark tears through 11 songs with power and energy. The record starts with a hum rising from the din giving way to a circular drum pattern and the heavy, effects-laden bass guitar crunch of the hook-y "Hundred/ Million" and doesn't relent through the screeching and stuttering effects at the end of "In the Dark" to the moody ambient intro of the closer "Naked." The straight-forward garage sound is dressed up and made that much more alluring by doses of shoegaze bombast. Songs like "Black Lotus" are so raw and catchy, but the piling of guitar effects and overdubs elevate the delivery and overall appeal. This is an outstanding effort from a demure bunch of guys that let the music do the talking. The power of the music will keep Abraham Lincoln and Henry Clay from rolling in their graves and may be enough to get them to rock out.
Written for REAX Online March 25, 2010