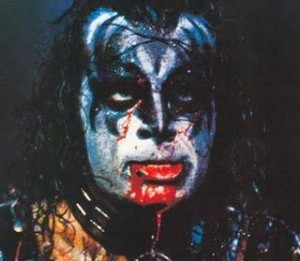 KISS is heading to Orlampa as part of "The Tour" with opener / co-headliner Motley Crue. I've been a KISS fan since I was a kid. My upstairs neighbor in Brooklyn was 10 in 1979 and I was 4. I remember walking into his room and every inch of wall space was covered with KISS posters. This is pretty cool since his Italian parents barely knew any English. I was mesmerized. At 4 years old, they were more than a band, they were gods – these massive, mysterious beings that were simultaneously scary and alluring – kind of like a fat naked girl. I remember going to Richard's (that was his name) birthday party where he got ALIVE II as one of his gifts. While the traditional party happenings played out I sat on the couch staring at the cover. I could not stop looking at the image of Gene Simmons drenched in sweat, makeup cracking, blood running down his chin and throat, and bathed in the blue stage light. My musical fate was sealed. Although soon after this was the point that KISS started to lose credibility with some fans I embraced them and all the hair metal they spawned through the 80s.
It can be argued that their music through their 4th album, the double-live ALIVE (everybody knows your 4th record is supposed to be a double-live album), was its purest and most original. Some may lean on their apogee, from Destroyer through Alive II, a time when they ruled the planet. Personally I loved them through 1979s Dynasty. They caught so much shit for the disco twist to that album, but listening to it again reveals a pretty charged pop rock record. These guys basically took the band they idolized (early Beatles) then amped it up. Early KISS is essentially "I Want to Hold Your Hand" with leather, flash bombs, and loud guitar. Their larger than life persona was the next evolution of teenage rock idols eclipsing the Fab 4 by becoming interstellar comic book anti-heroes.
Then the makeup came off:
This began a new era both musically and stylistically. They now competed with a new wave of bands in a genre they helped create. Hair metal, cock rock – whatevs – was the norm. The overblown 60s pop approach was not going to work anymore. While some bands still relied on theatrics, many bigger, louder, and more technically proficient bands came along. Screeching, whaling guitar heroics opened the door for groups that were a little more complex than KISS. Instead of KISS thriving in their own unique realm, bands that were not only influenced by KISS, but Alice Cooper, Led Zeppelin, Thin Lizzy, Black Sabbath and AC/DC appeared. The lessons learned from these bands created a more rich landscape for new bands to draw from. This led to KISS appearing somewhat sophmoric to some metal fans. Without the novelty of their makeup KISS struggled for relevance but built up so much clout that they were able to sally forth despite constant line-up changes and bedazzled outfits. They still managed to put out good songs in the 13 year period without makeup before they realized they could go back to the gimmick even though we all know what they look like.
I feel compelled to list "Shandi" from Unmasked, but they technically had not removed their makeup yet. I also want to list "War Machine" from Creatures of the Night because the first time I got Creatures on cassette it was the re-released version featuring the band without makeup on the cover. It also had guitarist, Bruce Kulick, in the picture even though he joined the band 3 years after that album was released. To chronicle non-makeup songs one has to start with '83′s Lick it Up. This is where they were officially unmasked. This moment was ahead of the guitar "shredder" revolution and Gene and Paul didn't realize what they had in Vinnie Vincent (the first replacement for Ace Frehley) and they literally had to restrain him from going apeshit on the ax. There were some personality issues too, but Gene and Paul weren't ready to deal with any competition for the spotlight, nor did the anticipate the sea change in rock. I would like to pick "On the 8th Day" but "Exciter" still had the aura of KISS and was the first song on the first album without makeup. Vinnie's guitar gave the song and album some credibility and "Exciter" still embodied the mythical rock god image they once possessed. UPDATE: The venerable Steve Schneider, @Schneider_Stv - humorist and most knowledgeable KISS fan alive, noted, "You picked the only song on Lick it Up that Vinnie didn't play the solo on! It's Rick Derringer!"
"Exciter" 
This is a single so I'm not really reaching here, but it is – without a doubt – the best song on Animalize. This is a great tune and a hair metal prototype. After Vinnie Vincent was fired, Mark St. John – another shredder – joined the band for this album before crippling arthritis (and I'm sure there were personality issues) forced him to leave.
"Heaven's on Fire" 
Yet another single, but a truly strong track that is much more than a cock rock song from 1985. "Uh All Night" and "Who Wants to be Lonely" are pretty good but don't stand the test of time. They were the other two songs in the KISS trifecta method. Every KISS album after 1977 is built around three singles and a series of filler songs. This is also the first official album for Bruce Kulick, a terrific hard rock guitar nerd that lacked any sort charisma or stage presence and that suited Gene and Paul just fine. Bruce was just happy to be working and take orders.
"Tears are Falling" 
It was hard not to pick "Crazy Nights" or even "Turn on the Night" but "No, No, No" is actually the better song here and stands out 25 years later.
"No, No, No" 
"Unholy" is a great song but it reflects a time KISS got a little harder in an effort to stay relevant. "God Gave Rock 'n Roll to You" – although a cover – represents some of late KISS' best work. And the addition of Eric Singer finally gave KISS a world class pro behind the drums. Yes, the great Anton Fig is amazing but we're not supposed to know he was drumming for them.
"God Gave Rock 'n Roll to You" 
The albums KISS put out since returning to the makeup are mostly unremarkable, but I will always stand by them as one of the coolest rock bands in history.
KISS and Motley Crue are playing the Ask Ax Gary Amphitheater in Tampa tomorrow