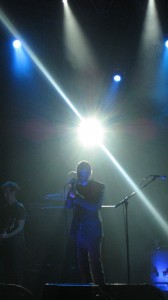 Owen Pallet was an interesting compliment to The National. His proto-folk was rife with powerful, intimate lyrics and the delivery was unique. One friend described him as Andrew Byrd meets Beirut, whilst another well-versed friend described Owen as an Andrew Byrd that doesn't fuck-up as much live. Owen and a single musical partner built subtle, fragile walls of loops by layering chord progressions and melodies one at a time. Most of this was done with Owen's extremely versatile violin. He could use effects to create the sound of a bass guitar or drum on his violin, loop the rhythm, then play a keyboard melody, add it to the loop, and add violin melodies and vocals to the top.
The National brought their darkly personal and brooding indie rock "A" game. The band was taut and crisp as they moved through what are quickly becoming classics, like "Anyone's Ghost," "Squalor Victoria," "Conversation 16," "Abel," "Daughters of the SoHo Riots," and "Fake Empire." The guys released the gripping tension Matt Berninger's somber songwriting by ribbing him about his melancholy lyrical style. Matt and the rest of the band sprinkled witty banter in between songs (and constant refills of white wine) and kept the capacity crowd engaged for an hour and 40 minutes.
The drinking, the banter, and the Ohio-bred sense of stark realism made me draw the comparison of a more mature and refined Guided by Voices. I told this to National super-fan and St. Pete Times / REAX columnist / photographer "Sonic Gabe" and it seemed like I punched him in the stomach. Maybe I'm wrong.
Towards the end of the show, Matt left the stage to serenade the entire HOB audience with "Terrible Love" by working his way around the floor and toward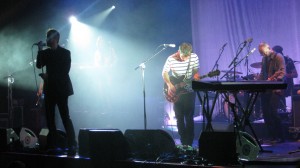 the back bar. The National's encore was perfect with a rousing version of "Mr. November" and a gentle unplugged (not just acoustic, but totally unplugged – no mics, no amps) sing-along with the crowd and Owen Pallet for "Vanderlyle Crybaby Geeks" – a sweet little butterfly kiss goodnight.
Lewis better be a girl … wait …
This is a great concert moment … Here is another vantage (from the floor) from thequitugs.wordpress.com
A really cool way to end the show. The crowd takes its cue and hushes …
Another perspective of "Vanderlyle" from a friend.