"Good to Sea" from The Social
"Fortress"
"Non – Photo Blue"
Set opener, "Lebanese Blonde" at The House of Blues
"Sweet Tides"
Thievery's cover of The Doors "Strange Days"
Although Switchstance Records has serious "street cred" among DJ's and electronica fans; Kabanjak and Dogu, the two artists who comprise Ancient Astronauts (and founders of the label), needed the muscle of a larger outfit to deliver their album to the masses. The Astronauts first full-length release "We are to Answer" remained in orbit for some time as they searched for the optimal international licensing partner. They finally reached an agreement with ESL Music for what seems like a match made in some intergalactic, down-tempo, eclectic, retro-modern heaven.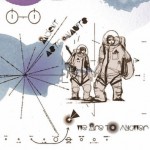 Hailing from Cologne, Germany as evidenced by the album title (it sounds like a rigid German response to: What do you do with a question? Vee are to ansa dummkopf!), AA creates a rich, layered and vibrant sound by mixing hip hop, dub, funk, house, electronica and serving it with a chill international flare inherent in all of ESL's music.
Laid back ambience is exuded in tracks like the album intro "From the Sky" and "I Came Running." That ESL signature feel that makes Astronauts such a good fit comes across in the world music vibes of "Lost in Marrakesh" and the raw, driving dub sounds of "All the Things You Do."  In an attempt to cover every form of electronic music "Dark Green Rod" touches on AA's stylized version of Drum 'n Bass.
The Ancient Astronauts thrive when toying with hip-hop. "Risin High" with Raashan Ahmad and "Classic," featuring members of Oakland legends The Pharcyde, meld the finest attributes of electronica and hip hop so seamlessly that they virtually create a new genre. "Classic" is one of the best single tracks of 2009. The song's pounding drum beat with driving ride cymbal mixed with serious turntablism, trippy loops and tight, hardcore breakdowns underscore both teams talents and push the Pharcyde sound even harder than on their own.