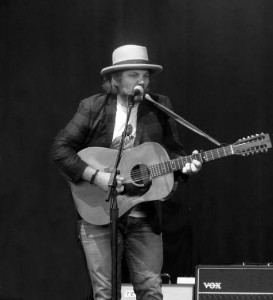 It took about two days after the show for me to realize it was the AmericanaramA Fest and not the Americana Fest. It's like my mind refused to acknowledge the last four letters. The people that run the Americana Music Fest, an acoustic festival in Virginia City, were probably really tired of my irrelevant tweets and @-metions. I will pretty much see My Morning Jacket and Wilco any time, anywhere. Throw in the fact that it's the legendary B-Dizzle's show and I will definitely  be there. I've never seen Dylan in my life. I can't say I've taken the time to get to know all of his work, but I'm well aware of the history and myth that surround Bob Dylan as well as what his impact on modern music is. Actually two of the supporting bands owe a lot to him.
Bob Weir kicked off the evening's vibe fest with a solo, acoustic set.
My Morning Jacket was next and despite their lower station on the bill and a setlist that was just over an hour, they killed it. They always do. Here, was a slightly folkier set opening with "Circuital," dusting off the folk-epic "The Bear" and busting out "Dear Prudence" with Bob Weir.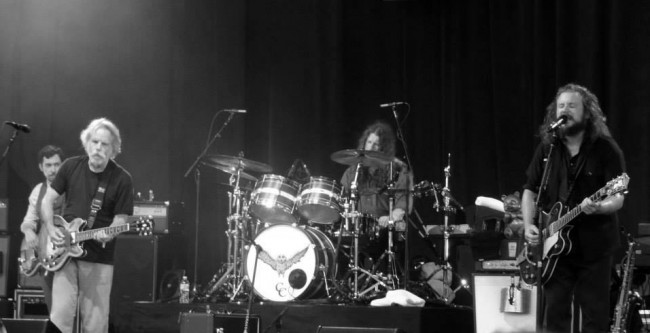 Wilco was positively awe-inspiring. Like MMJ, the busted out a flawless gem of a set.
"Impossible Germany"
I didn't see many traditional hippies or Dead-heads considering the line-up. That is until Wilco and Weir whipped out "Friend of the Devil" and I would swear the hippies repelled down from the ceilings. The aisles and walkways were instantly clogged sandal-clad dancers groovin' the way only white people can.
Dylan played a set that was light on legendary hits and more focused on deeper cuts and recent music. He wasn't the warbling, unintelligible feeb I thought he would be. He voice was craggy, jagged, angry and aggressive. It seemed more like Tom Waits with a fiery backup band than the godfather of folk.