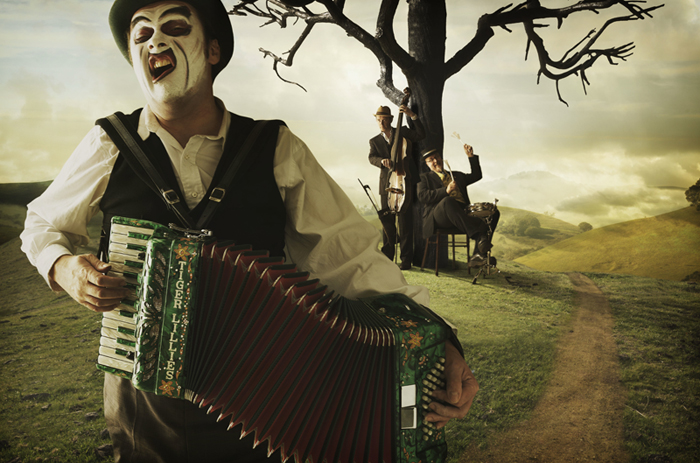 Who are you and where did you come from?
"I'm Martyn, I come from a little town outside Slough (Berkshire, England) where I lived a happy childhood and a nightmarish adolescence."
This is Martyn Jacques, the "criminal castrati," a mastermind of sorts as the principal creative force and founder of the Tiger Lillies. The Tiger Lillies could be described as Brechtian Street Opera (after German poet and playwright Bertolt Brecht) or Gypsy Cabaret and I've called them macabre Vaudeville because of their twisted Something Wicked This Way Comes, 19th century carnival feel. There is a nursery rhyme quality to the foreboding tales of vice, death and debauchery woven into their songs. Not the sugarcoated, modern stories for children, but the dreary and awful stories of disease and death that often spawn these tales.
Does that make sense? Do those tales influence the storytelling in some of your songs?
"Well I'm not a big fan of great words and my tunes – at least when they are first born – are always very simple… almost childish you could say. My songs speak about the dark side of human beings which is I guess the basis of the storylines you refer to."
Martyn finds it difficult to describe the music of the Tiger Lillies because it is "the music that just comes out of my head." He touches on the broad influences of "cabaret, punk, blues, and old eastern music" as the music he loves to listen to. And it is all in there – elements of the east in Jacques' ominous accordion spliced together with the raw energy and straight-forward savagery of punk, the dingy glamour of cabaret, and adorned with twisted takes on theatrical and literary themes. All of this blends with so many influences to create one of the most interesting collections of music and performances in modern music. That is why Martyn continues, "So I can't give you a 'label' I'm afraid, but I can say that I believe our music has developed and changed a lot since we started – 22 years ago."
Martyn's musical ability – playing the accordion, ukulele, and piano among other things – and his approach to songwriting contribute to the unique world of the Tiger Lillies, but it is his voice that puts the signature on the body of work.
Describe your voice, I mean, how would one classify your vocal style?
"I'm a self-taught singer. I tried attending singing classes in my 20's and absolutely hated it. Our teacher would use all these different signing techniques, but in my opinion the sound, either way, was absolutely boring. So I guess a voice production "expert" (like he was) would find all sorts of technical flaws in my singing. Its pretty clear that I'm not big on classification, isn't it?"
(I chuckle) Yes.
"But as we are discussing vocal styles I think I should mention that these days I use both my high voice (that people are more familiar with and has become a trademark of sorts for the Tiger Lillies) and my low voice. They are very different in the sense that my low voice is much more harsh and untrained than the high one. I love using both on stage and when we record, because I think it creates variety, shifting the mood of the songs."
"The Dreadful Story of Harriet and the Matches" – The tale of a little girls grim brush with pyromania
How did the Lillies come to be? How did the sound and themes and members come together?
"The sound and themes were born inside my head after spending a decade in London staying in my flat all day learning how to play various instruments and training my voice. I had a great view from my window; on one side of the flat there was the playground of a nursery school – on the other, Beak Street of Soho, full of drunks, prostitutes and drug dealers. The band members (originally Adrian Huge and Phil Butcher – who was later replaced by Adrian Stout) were the only two people that got in touch with me when I put an ad on Loot looking for a bassist and drummer."
It is certainly Mr. Jacques previously mentioned "nightmarish adolescence" and the time in his Soho apartment that spawned the themes in the Tiger Lillies music. His 10 years "embedded" in west London privy to the daily dramas of the dregs of Soho served as research for their music while feeding a fascination with the underbelly of society.
They have numbers like "Heroin and Cocaine" which chronicles a school boy's addiction and eventual death, "Larder" about a dead body decaying in a larder, "QRV"- a story about a mysterious drug that the whole town is abusing and dying from, "Snip Snip" about a young boy who is warned by his mother to stop sucking his thumbs or an ominous tall tailor will cut them off with his shears (he does), and so many more including "Whore," "Besotted Mother," "Pimps, Pushers, and Thieves" "Sodsville," and "Hamsters" a descriptive tale that harkens the urban myth of Richard Gere notoriety. Their discography is long – beginning in 1989 – and all creepily awesome.
The Lillies are prolific to say the least. It seems that – for the most part – the albums are concept driven and so are the shows / tours / residencies that follow. How do these concepts come about? Where do you find inspiration for these songs that range in subject from whores, drugs and transsexuals to rape, murder, bestiality, and sometimes even love?
"Oh … everywhere around me. All these things are out there for everyone to see. Its more about wanting to look and think about them… and finding a way of doing it that can turn them into art."
The other permanent members of the Lillies are the Adrian's, Adrian Huge on drums / percussion and Adrian Stout on stand-up bass. Huge is a talented percussionist that has found a way to play the drums in a non-traditional style for a non-traditional music by bringing the songs to life with anything from percussive instruments to silverware and spatulas. Stout, if you listen, is a solid bass player rooted in jazz. If Martyn gives the songs bite I feel Stout gives them legs. Looking beyond their musical abilities, Jacques adds, "The Adrians contribute not only to the sound but also, and more importantly, to the world of the Tiger Lillies. We never rehearse, we never practice – I write songs at home (or more likely in some hotel room), I turn up at the sound check right before a gig and I play them. They both pick them up instantly and add their own elements to them… musically and theatrically."
"Crack of Doom" Live from Russia:
Your success wouldn't be defined as a commercial smash, but you've built a strong international following and earned the admiration of so-called stars. Could you name a few?
"I'm crap with stars – especially TV ones as I don't watch any. Whenever we play in places like L.A. some famous people come at the CD signing and say hello and I honestly feel bad because I don't know who they are."
Ha! You are most certainly better off for it.
To elaborate a little on what I was poking around for is that the Tiger Lillies, although not at mainstream blockbuster status, enjoy an underground popularity and respect that true artists earn. Their fans include everyone from international composers and dramatists to Simpson creator, Matt Groening, The Talking Heads' David Byrne, and Marilyn Manson. They were even commissioned by the Biennale of Sydney to create a "song cycle of crime" for the festivals 17th running in 2010 that was recorded and released as Cockatoo Prison.
Has Manson – a Tampa boy – ever contacted you about collaborating? Would something like that interest you?
"No he hasn't, but I know he played our music at his wedding. I'm always open to new collaborations, I enjoy anything that gives me another reason to write music."
Speaking of collaboration, the Lillies have been a part of some amazing and inventive collaborations like Symphony Orchestra of Norrlandsoperan, photographer Nan Goldin, and Russian band, Leningrad. The 'sort-of' collaboration with Edward Gorey (American Illustrator and Author), The Gorey End, is fantastic and the vehicle that brought me to your sound. I mean – it seemed so perfect – when I would see his work it was like Tiger Lillies music was coming out of the page and that was before I discovered you! How did that idea come about? What was the story behind it?
"Edward Gorey sent me a letter asking me to go visit him to discuss a collaboration. I was thrilled of course but just before taking the flight to go see him, he died. It's almost too ironic to be true. We made the album anyway and I think its one of our greatest ones as his work is very inspiring for me, but it's a real shame he wasn't around to listen to it."
I am dying to know what QRV is. What is it? I've never found anything on it. Not that I want to take it or anything …
"I'm dying to know too. I would have asked Edward Gorey if he hadn't died days before our first meeting."
You are coming off a residency in Vienna where you played a show called Woyzeck. Could you explain that show – the premise and its origins?
It's about Franz Woyzeck – a great character: to earn an extra buck he has become a guinea pig and eats nothing but peas. He starts hallucinating and goes paranoid, which doesn't help when he realizes the mother of his child is cheating on him with the sleazy, wealthy and butch drum major.  It's a wonderfully dark play and I think that the production I was in was a great one too. The run in Vienna went very well – hopefully we will tour it one day.
Stephanie Mohr, who directed The Weberischen (Another Tiger Lillies production with a dark and lusty interpretation of the women in Mozart's life) in 2006, asked me to write some songs for Woyzeck that was the next project she wanted to work with us on. I wasn't familiar at the time with Buchner's (Georg Buchner is an early 19th century German dramatist) work, but I loved the play and I found it really relevant to the Tiger Lillies world."
How was the stint in Vienna? Do you have any reflections on the city and your time there?
"Civilized is the first word that comes to mind when I think of Vienna. I know the city pretty well as I've done a few long runs there. When you travel a lot you develop certain "habits" in certain places. So it's always good to be back and go to your favorite restaurants, bars, and galleries – walk down your favorite street. The Woyzeck run was very successful so it was a good experience altogether."
There seems to be a strong kinship with Germany – from the themes of albums and homage to German writers and artistic movements. You also appear to do a lot of recording in Germany. Why is that?
"On one hand German cabaret as well as the Twopenny Opera (A Tiger Lilly interpretation of Bertolt Brecht's musical, Theepenny Opera) by Kurt Weil (Original composer on Brect's Threepenny Opera) have been very inspiring for me, so its possible that this influence on my work is something German audiences can relate to. We've also had some really good German agents. So over the last 22 years we visited Germany countless times; from big cities to small towns. As for the recordings, we always do them when we are on the road; it makes sense as we are almost never "at home" anyway. And as we spent so much time in Germany we have recorded a few albums there."
The sound and mood of the music harkens bleak Dickensian squalor – for me anyway. Even though these themes are timeless, the presentation gives the songs a sort of antiquated feel – like it was captured from a bygone era. Do you draw any inspiration or fodder from current events like the current wars, the fleecing of the world by bankers, the imminent economic collapse of the world, and 2012 doomsday prophesies? All seem like they could fall in Tiger Lilly territory.
"I used to be rather indifferent to current events – but I think this is changing as years go by. Last summer I was in Athens where people were protesting at austerity measures. The committee of the protesters got in touch and invited us to perform in Syntagma Square, opposite the Greek Parliament. We performed in front of hundreds of thousands of people with tear gas grenades being fired everywhere around us. I felt what I was doing gained a whole new meaning. It was definitely one of the most important performances in my career."
Are the songs developed with the shows in mind or do the shows sort of write themselves as the album tells its story?
"It can and has worked both ways."
Since I've followed you I can't recall you visiting the states. Do you tour here much? What is the stateside reception of your music?
"We used to come to the States every year, usually in the fall – around Halloween. Last year we had a big tour around Europe with the "Tiger Lillies Freakshow" (a show built around their '99 album Circus Songs, which could be likened to a musical version of Tod Browning's 1932 classic horror film, Freaks), so we didn't make it. Its great touring here, we have many really devoted fans that are also wildly enthusiastic as they don't see us that often."
What kind of fans does it seem to attract over here? It almost seems like the themes and nature are too clever for us – like only literature professors and theater majors would "get it."
"I suppose I'll take that as a compliment. I don't however see your point. I don't think my songs are that clever, and I definitely don't think Americans are stupid. As in the rest of the world we attract different kinds of people; from 16 year-old Goths to middle aged couples. We even have some elderly ladies that follow us around."
I would beg to disagree with Martyn's assertion that, "I don't think my songs are that clever." As I see it, a band that is highly sought by the international musical and theatre community that can pull off albums dedicated to bestiality (Farmyard Filth, 2003) on one end of the spectrum and creating a musical translation of Francois Rabelais's medieval novel Gargantua & Pantagruel (Here I Am Human, 2010) on the other is pretty damn clever. Just take a look at their long list of albums and their brief synopsis to get a glance at the magnitude of their themes and collaborations: www. http://tigerlillies.com/shop/
What can fans in Tampa expect? Will this be a more traditional concert as compared to the themes and concepts of Woyzeck and Freakshow?
"Oh yes. Doing runs with shows is great but eventually I get tired of performing the same songs each night. So now I'm really looking forward to some Tiger Lillies gigs where I can do whatever I like with the set list."
"Bully Boys" – A brutal tale of revenge from the perspective of a bullied kid:
What do the Tiger Lillies have in store for us in the coming year?
"I'm working on many projects at the moment, but the one that might actually make it to the US is a new production of Hamlet. It will open in Copenhagen in the spring and hopefully next year it will tour the States."
The Tiger Lillies wrapped up Woyzeck in Vienna in mid-October then went on to a brief stint at St. Ann's Warehouse in Brooklyn to perform Sinderella with avant-garde actor, Vivian Bond. This is the tale of Cinderella Tiger Lillies style as "Sinderella" is a crack-whore battling with drug addiction and domestic abuse. I wonder why Disney hasn't come calling?
Martyn Jacques, Adrian Stout, and Adrian Huge will bring their bizarre, beautiful, and darkly funny brilliance to the Straz Center in Tampa on Thursday, November 3rd.
The Tiger Lillies Facebook page
The Tiger Lillies official website
See the interview on Tampa's Best Music Website, Suburban Apologist