Pitchfork awarded this album a stunning, near-perfect review, and given their penchant for lauding bands with cool names and unconventional music (even if they suck), I was hesitant to accept this. Then, throw in the fact that AC's previous albums, although boldly defiant, could never steer far from the sounds of a reckless cacophony.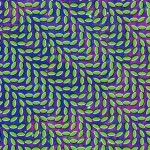 Merriweather Post Pavilion continues in that¬†Kid A approach to deconstructing people'Äôs notions of what constitutes a pop-rock song. Scant use of guitar and drums with swirling, delicate layers of synth loops, bells, whistles, and odd blips combined with their unique vocal approach sometimes culminates in a maniacal and fantastical din – the sound of Willy Wonka'Äôs Air Conditioner if it was on the fritz. It's a Pet Sounds with no restraint, but I'Äôm pretty sure that'Äôs what they are going for. The Beach Boys comparison isn'Äôt helped by the layered, echo-y yearnings of Panda Bear'Äôs voice, but his soft and scary Brian Wilson – discorporated, floating above asynchronous waves of sound – is the high point in some of their music. 'ÄúGuys Eyes,'Äù one of the more coherent and direct tracks, and 'ÄúMy Girls'Äù expand with his voice, as do the ethereal backing vocals – reaching out of the din with eerie softness – on 'ÄúLion in a Coma.'Äù
This album is a watermark and it definitely does its job in merging indie and experimental in ways that challenge the listener, but (as I draw the ire of the hipsters), even though it is superbly produced, music like this can'Äôt help but seem muddled. Live, with some lights and video, this material may be staggering, but it is performance art. AC is groundbreaking, fresh, and sure to influence music for the next few years. It'Äôs just that, up close, near the source, it's too much. It needs to be distilled in the minds of other musicians and reinterpreted (it'Äôs actually already happening) in order to make it palatable. Most of MPP'Äôs content seemed a minute too long for songs of their nature. There isn'Äôt a track that makes me want to turn it up. In fact, I found myself turning it down to escape the auditory mindfuck.
Article originally appeared in REAX #38, April 2009