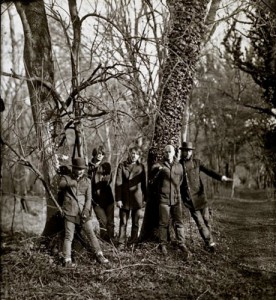 Ha ha – Not really, I just thought that would be a funny headline, but the seventh track on The King of Limbs, "Give Up the Ghost" draws the "Grizzly Bear is the American Radiohead" comparison full circle. It starts with birdsong and builds a haunting layered vocal call and a stripped down percussion that may just be an amplified slap of an acoustic guitar body. Gentle guitar chords are accompanied by layers of vocals with different treatments and all is reminiscent of GB's folkier approach to electro-alternative. This was also the point that the new sound began to sink in…
The album opens with looped piano notes and then a modulated beat creeps in sounding like a tennis shoe in a dryer. My first instinct was to assume, "here comes another insane Kid A-ish departure from normalcy." Where In Rainbows came on with a completely new feel, The King of Limbs definitely harkens the Kid A / Amnesiac era as the first two tracks unfold, but only in their deconstructed approach to pop. The tendency is also to use synthesizer references in explaining the ambient sounds, but since this is Radiohead there is usually a far more organic-meets-outlandish technical production afoot. What sounds like synthesizer could be notes played from a harp in the basement of an old house, sampled and played backwards at half speed. Cheeky bastards!
The third song, "Little by Little" creaks forward from the delicately constructed electro-haze with a simple and soft, yet driving guitar chord festooned with a wall of maraca-like percussion. Elegant duel guitar parts bolster the chorus until the simple and sinister sounding acoustic progression returns. This song and the closer, "Separator," are the easiest to wrap your head around and help you to digest the sonic approach to the rest of the album. For instance, my first exposure to "Lotus Flower" was through the video that was released just before the album. I think I was so transfixed by Thom Yorke's apoplectic gyrations that it mitigated the impact of the song. After listening to the album once, then again the simple beauty of "Lotus Flower" emerged.
In the end Radiohead was able to continue the amazing feat of producing a new album that sounds fresh and inspired while being unmistakably Radiohead.
[media id=61]
Track 3 – "Little by Little"
Buy Radiohead's The King of Limbs
8D3WD9FPSRBP