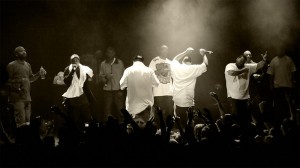 The night began with troubles at the door. I guess my press credentials are somewhat suspect because my name apparently was not on the list. Now I don't want to point any fingers – huh-hum cough REAX cough! Whoo! -Excuse me. Finally, thanks to the superior customer service of Club Firestone's stellar managing partner, Mike Feinberg, I was able to experience the Wu.
I missed DJ Kittybat's set, surely a crowd pleaser and perfect match for this show. Regrettably, I was able to see Black-182′s – sorry I mean Whole Wheat Bread's – set in its entirety. Although I dig their energy and their "I Love Black People" T-shirt is one of the best merch items I ever saw, I was completely over re-hashed inoffensive neo-Green Day mall punk before it was invented.
The Wu took their sweet time, taking the stage sometime after 11:30. Prior complaints I boasted about hip-hop shows rang true. Poor sound and a poor mix lead to a bungled, bass heavy yell fest. The cool laid back flow of Method Man and the trademark nasal attack of Ghosty were all but lost. Moreover, Wu Tang's unique, elaborate, layered textures of loops, beats and samples – their stony musical charm – was washed away in a sea of thudding low-end dissonance. Feedback and volume issues plagued the bakers-dozen of performers who passed mics like batons at a relay race throughout the entire set trying to find one that worked. The WTC should really be RZA, Method, Ghostface Killah, Raekwon and maybe Cappadonna just because of ODB's earthly departure. The full crew is superfluous overkill, draining efficacy from the star performers.
That being said, no one can argue the star power and crowd rousing abilities of this experienced NYC crew. Despite audio issues, the crowd was pumped, eating out of WTC's hands, especially Method Man. The hour and a half performance turned into the Method Man show. He was taunting and baiting the audience, climbing on speaker stacks, getting beers from the bar, crowd surfing and standing upright on top of the crowd as they moved through mostly classic Wu tunes such as "M-E-T-H-O-D Man," "Bring Da Ruckus," "Protect Ya Neck," and "C.R.E.AM" mostly avoiding 8 Diagrams material (some of which I was anticipating). Another highlight was the tribute to Ol' Dirty Bastard with a medley of hits including ' "Shimmy Shimmy Ya" with ODB's brother 12 o'clock. I tipped my foe-tee in his memory and wondered what it would be like on that cramped stage with the kinetic, unpredictable ODB there as well.
Article originally appeared in REAX #21, February 9 2007
"M-E-T-H-O-D Man" Live
Method Man walks on the crowd at Firestone
"Shimmy Shimmy Ya" part of Ol' Dirty Bastard tribute