The first time I was introduced to Thomas Wynn's music was via a mutual friend who insisted I hear this band. The Wynn Brothers were a family band with southern rock roots that ritualistically began every show with "The Weight." The influence of The Band was evident in their own sound and vibe, as well. Thomas, equal parts Levon Helm (minus the drums) and Waylon Jennings, had fronted the endeavor since before he was of drinking age, but the demands of real life dissolved the Wynn family band, leaving Thomas thirsty to pursue his vision.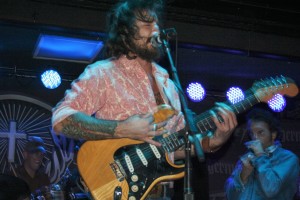 If you spend any time in downtown Orlando, you've probably heard him. Playing anywhere from The Globe to the Cheyenne Saloon, his solo set of classic-rock gems blending seamlessly with originals is sure to be echoing off walls and down Orange Avenue. He might be the hardest working musician in Orlando, and it is paying off.
His new band The Believers expands on the classic and southern rock themes of the Wynn Brothers; his music has grown. It has more weight. Thom Damon's solid drumming and Showcat Luise's bass lock down the rhythm section, while Justin Beckler's lead guitar opens up the sound. Beckler's guitar work elevates their presentation with fierce, bluesy chops and southern grace. Wynn's own guitar work is vastly improved from earlier incarnations, and their music peaks when he intertwines with Beckler's playing in some of the more thunderous jams and solos that punctuate The Believers' work.
Wynn is also maturing as a songwriter. The tunes are brutally honest and heartfelt – every word, every note registers on his pained face. His vocals are starting to sound seasoned and direct. A mix of earnest emotion and practice lends more conviction and power to his voice. Helping Wynn out in the vocal department is his sister Olivia, whose sweet, strong vocal response makes the perfect companion to his yearning banshee cries. Her words give lyrical depth and auditory balance to The Believers' delivery.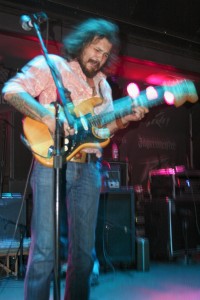 For once, you have a Florida band that is Florida. They look Florida, they sound Florida – with a touch of Molly Hatchett sprinkled on The Band, Neil Young, and The Black Crowes. Not hipster-bullshit transplant Florida, but Florida Florida.
The sum of the parts is one of the strongest live shows in the state. The music is becoming more stately and sweeping, with powerful melodies and hooks, grinding jams with soaring guitars and tight drum work, and a frontman that can carry "the weight."
February 7, 2009 sees the release of Thomas Wynn and The Believers' first full-length album The Reason. If they can capture some of the power present in their live shows The Reason will be a tipping point in Wynn's career.

The CD release party for The Reason will be at The Social on February 7.
Article originally appeared in REAX #32, January 2009