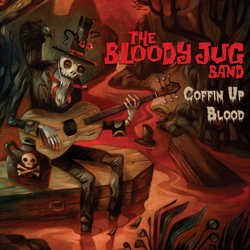 The first time I saw the Bloody Jug Band was at Orlando Calling. Instantly, I was attracted to what seemed like an Outlaw Country meets Marilyn Manson approach. Their soon to be released Coffin Up Blood reveals much more than my early comparison denotes. Macabre themes are intertwined with the edgy country that embodies an outlaw vibe, but the music is more of an Appalachian horror story – like Bill Monroe joined The Misfits.
The songs are rooted in bluegrass tradition, delivered with rock attitude, and smeared with ghoulish themes. They do to bluegrass what Tiger Lillies do to cabaret: make it dark and visceral. The first track, "Graverobber Blues" stomps out of the gate with the usual bluegrass toolkit: guitar, mandolin, harmonica, washboard, and even a washtub bass, but the thudding backbeat and driving rhythm guitar add a modern rock dimension. The scene imparted is less about tracing her little footsteps in the snow and more about following a trail of blood through the swamp to a pile of corpses.
"Chained to the Bottom" is bolstered by the powerful backing vocals of Stormy Jean – one of the stronger contributors to this 7-piece band. Producer, Justin Beckler – one time member of Thomas Wynn & The Believers and producer for Matt Butcher and The Lonesome City Travelers to name a few, does an incredible job blending the large band together into a cohesive unit with a unique sound. Cragmire Peace's throaty growl is counterbalanced by Jean's classic, yet ghostly country croon and the incredibly adept bluegrass band is mixed together to create a very new sound. If musicianship is being credited, Bloody Rick Lane's freight train harmonica is worth the price of admission alone. This dude blows harp and singlehandedly pushes this outfit into the realm of heavy hitters.
"Boy Named Lucy," is something of a Grimm's Fairytale adaptation of "Boy Named Sue" and is something you would expect from a band like this, but other tunes such as "Reaper Madness" and "The Pain" highlight Bloody's talent and Beckler's spot-on production. These songs push out of a niche genre and have a nearly cross-over pop quality. These guys are doing something cool here – from cartoonish horror to killer country – Coffin Up Blood demonstrates what BJB has to offer.
Reaper Madness by The Bloody Jug Band
The Bloody Jug Band are having their CD Release Party at Will's Pub on Saturday, March 31st at 9:00 pm. Check them out and pick up a fresh copy of Coffin Up Blood.
The Bloody Jug Band Official Website
Written for Tampa's Premiere Music Blog, Suburban Apologist @SubApologist