Upon entry I was greeted by Portland, Oregon's Billygoat in the middle of their set. It was gorgeous, haunting, ambient music created with drums, guitar and the vocalist working a synthesizer and an array of other electronic equipment. This was set and synchronized to some of the most stunning digital animation I've seen at a show like this.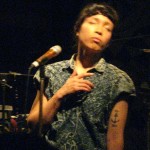 Seeing Little Dragon live is a neck breaking collision of soul, electronica, and rock 'n roll. Their last appearance at BackBooth in 2010 brought out about 60 rabid fans. This time around the venue was packed. I guess appearing on a Gorillaz album does wonders for publicity – being completely awesome helps a lot too. Vocalist, Yukimi Nagano, who seemed a tad shy on the last time out worked the room with a strengthened charisma while the insanely talented gang of Swede's that comprise the band ripped a hole in the time-space continuum that pulled the BackBooth into a swirling vortex of energized dance rock. No, I was not on acid.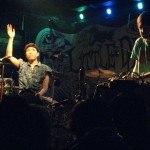 These guys are on the verge of something huge. They have the right mix of unique sound, talent, charisma, musical arrangement, live presentation, and mass appeal. They deliver their smooth electro neo-soul like a rock band. The volume was crushing and they often turn 3-minute singles into 10 minute exploration jams. The vibe was fun and intense. It is one of the few shows I've attended where it is packed shoulder-to-shoulder but everyone is dancing like it's a club. When I say everyone, I mean everyone including guys … white guys! Nearing the finale there were moments reminiscent of Radiohead with bassist / sampler, Fredrick Källgren, hunched over his devices twisting knobs and warping sound along with a pulsing house-like disco party freakout brought on by Erik Bodin's clever drum work and Håkan Wirenstrand's driving keys that shook walls and made it feel like an Ibiza ecstasy party. I nearly had a pants-off dance-off with myself.
New Music: I think they said the song was "Bitter Tears"  "Summer Tears" from their forthcoming album …