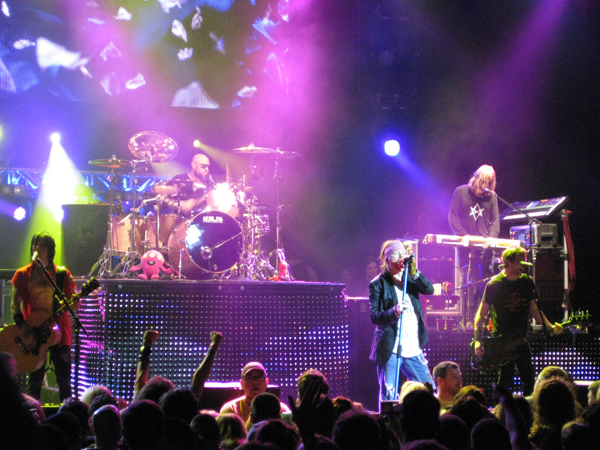 Guns n' Roses 2.0 (maybe 3.0?) roared into the House of Blues on Saturday March 3rd as part of their little publicized Up Close and Personal Tour. Early reviews of the band along with their sound and appearance at Rock in Rio scared me away from paying $100 to see them at the Amway Arena. Axl looked fat and the band looked weak, but reports from the Amway show and the rest of the tour were of a tightly wound incarnation of Guns. Early reviews from the club tour noted the band stepped it up even more and indeed they pulled off a well-oiled arena show inside a medium sized club. Gn'R positively thundered through their 3-hour plus set.
The last time I saw Guns n' Roses was almost exactly 20 years ago at the Citrus Bowl touring with Metallica and Faith No More. In classic Axl fashion, the band did not come on for nearly 2 hours after Metallica – featuring a one-handed James Hetfield (infamous pyrotechnics accident) – finished their set. So I didn't flinch when friends said that Gn'R didn't take the stage at the Arena until nearly midnight and played until 2:30. The same at the House of Blues. Axl and company took the stage just after midnight and played straight through until 3:30 AM. Disney apparently lifted their curfew until 3 AM and Axl still told them to fuck off. If it were a "school night" I'd be like, "fuck Axl!" but since it was Saturday it was pure old school rock and roll attitude. This is the band that came out of cock rock drenched LA in the late 80′s with a stripped down dirtbag rock sound that kicked mascara-wearing bands in the glitter laden cod piece. Guns n' Roses was the stepping stone from hair metal to the anti-glam of grunge – for me anyway.
Now it is just Axl – who looks to be in much better shape and sounded better than I ever remember him sounding live – with a crew heavy hitting hired "guns" that know how to put on a serious rock show. The setlist highlighted Guns brief, but prolific and illustrious early catalog with some of best parts of the powerful, but mostly overlooked Chinese Democracy sprinkled throughout.
I played the same game I always play at a sold out House of Blues show. This place could be the most poorly constructed music venue on the planet. I spent the evening traversing the entire building to find a decent view. Unless you are front and center on the floor or on the loge it is nearly impossible to see anything because of incredibly poor placement of massive wooden pillars and a low, overhanging 2nd deck. Everywhere you move you battle with a load bearing column for a direct sight line. Usually you end up watching the show on a shitty TV screen placed on the pillar. Lame. This could be a Boston Garden type scenario where the "venue becomes part of the experience" but fuck all that – especially when you paid $100 to SEE a band. If I wanted to stare at columns and joists all night I'd hang out at Home Depot for free.