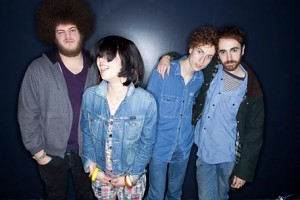 Grunge-y noise rocksters (I love that I just make up words), Yuck, stopped by The Social last night to lay down a wall of fuzzy pop distortion. One indicator of a good songwriting is to develop a signature sound while simultaneously creating catchy songs with great hooks that have instantly recognizable melodies on their own. Yuck is a able to construct relevant indie rock songs like this under the retro blanket of early 90′s grunge influence.
A solid rhythm section roots these songs in a strong foundation as the duel, wall-of-guitar approach adds a heavy and sometimes psychedelic aural aesthetic. Mostly rhythm guitarist and lead singer, Daniel Blumberg, hunches over his Gibson SG and crunches out chords looking like a young, malnourished Bob Dylan. Even more impressive than Daniel is mostly lead guitarist, Max Bloom's, ability to wrangle the squelching fury of all his pedals enough to hear the harmonics and soft touch he lends behind the noise. I think he is a guitarist to watch as the band evolves.
The opener was Porcelain Raft that sounded something between Icelandic trance rock and American indie laptop pop. It's a dichotomy: Simultaneously amazing that single songwriter performer can manage all the loops and machines and pedals to create an ambient concert experience while equally amazing how much having a real band would be so much better. Does that make sense?
The show was a short, energetic run through of most of Yuck's material. Since they had the headlining spot this time around I expected more extended jams and deep cuts or covers to stretch out the show and flex some muscle. Other than a few mini jams and the epic "Rubber" it was quick and concise and I was home by 11:30. Man I'm getting old.