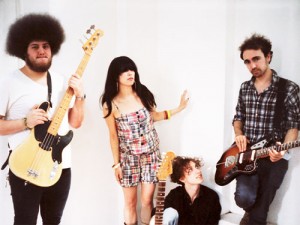 Yuck caught my ear when I saw them open for the Smith Westerns at BackBooth where they summarily blew SW off the stage. They were a scraggly bunch with the Smashing Pumpkin / Sonic Youth girl bass player configuration. Like those bands they also wielded a crunching avalanche of sound with their embrace of squelching feedback guitar heroics. Yuck received nothing but praise for their debut and kept the momentum going by touring with bands like Modest Mouse and Teenage Fanclub and recently re-releasing a deluxe version of their album with 6 new songs.
"Go Away" sounds like a catchier Dinosaur JR. song …
They're big guitar sound also lets them get a little psychedelic and experimental like on this performance of "Rubber" from Room 205
They will be at The Social tonight with Porcelain Raft. So go.