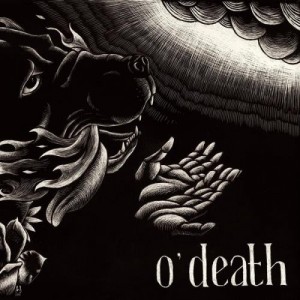 There was a recent spike in folky Americana-inspired, bluegrass-tinged alt rock that swept the nation. That surge coincided with an exponential increase in old-timey facial hair. I know correlation doesn't equal causation, but think about it. I didn't quite understand it. It wasn't bad, but I didn't get the throngs of fans singing along with the likes of Mumford & Sons, Avett & Sons, and Sons & Sons or whatever.
I am a gigantic fan of bluegrass so that's not the problem. I just prefer the way bands like Murder by Death and Portland, Maine by way of New York's O'Death bring a more authentic, honest sound. Touches of Appalachian music blend with alt country, western textures and dark themes. It's just cooler.
It's like if Alice Cooper started a band inspired by Fleet Foxes and wrote music for True Detective and any band that takes their name from a song made famous by Dr. Ralph Stanley is alright by me!
MBD is a perfect gothic, whiskey-soaked companion for O'Death.
If you prefer Johnny Cash over Elvis, Slayer over Metallica, Outlaw Country over New Country, The Black Crowes over Dave Matthews or just can't stand the inexplainable popularity and unnerving optimism of modern folk rock and its fans then this show is for you. Buy Tickets