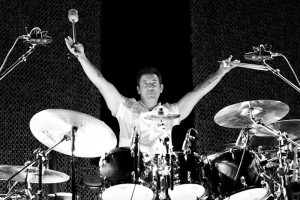 Fans of face-pounding rhythm, explosive fills, brilliant flourishes, and general badassery should be in Denver this weekend. Legendary prog rockers, Rush, play the Pepsi Center on Saturday while psychedelic alt-rock masters, Smashing Pumpkins, hit Red Rocks on Monday, July 13. If you're a drummer your dick is hard. Real hard. Especially with the return of Jimmy Chamberlin to the Pumpkins' lineup.
These bands are more similar than you think, but their obvious common thread is two of the best drummers – ever.
These are guys steeped in the thudding, grooving rock masters that preceded them, such as John Bonham, but more importantly Jimmy Chamberlin and Neil Peart are students of jazz and precise drum technique.
Now there are a fair amount of fantastic drummers that play jazz and fusion and routinely grace the covers of drumming magazines, but Neil and Jimmy are other-level brilliant. What sets them apart – besides the wicked chops and deep knowledge of rhythm – is a certain musicality; an ability to play over-the-top drums that don't run over the music. Instead, the complicated patterns, constant barrage of fills, and improvisation serve to underscore and define the music, propelling both band and song forward in a way that could not be done without them.
Another notable attribute of these guys is the ability to seamlessly meld stomping arena rock beats with jazz fluidity. This would typically be referred to as fusion, but it isn't as antiseptic or math-y with Jimmy and Neil behind the kit. The drums have balls; powerful, smooth, vibrant, pulsing, organic balls.
It could be said that they overplay, but no one ever has said it. They are too nuanced, too in tune with the melody of the song to ever harm it. They know what the song is supposed to do and use everything in their arsenal to make it better. It's more than just meter. On top of their preternatural timekeeping abilities, these two drummers are able to push their kits out front as a lead or melodic instrument.
The Pumpkins suffered horribly without Jimmy's natural propulsive, chattering percussion and the push-pull between he and Billy Corgan. On the other hand, imagine Rush without Neil Peart. Eeeewwww.
If you care about music at all or if you are interested in drums then seeing these guys in action is worth the price of admission alone.