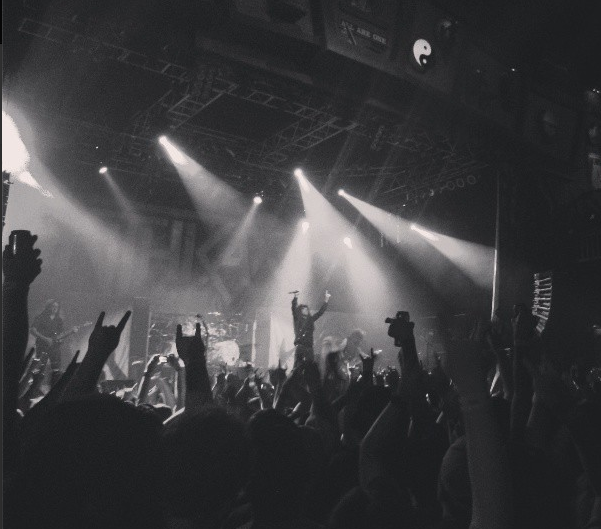 Metal fans at the House of Blues were greeted by four members of Anthrax around 9:40 pm to deliver some disheartening news. Frank and Joey disclosed that they had just left Scott Ian's side at the hospital where he was diagnosed with food poisoning. Although Scotty's night had gotten decidedly shitty, the rest of the guys were going to soldier on and give Orlando "the best god damn Anthrax show they could get." Anthrax is a true band. They are not Anthrax without Joey. They don't feel the same without Frank or Danny (although Dan's successors have been phenomenal), they wouldn't be the same band without Charlie, and they certainly couldn't be Anthrax without the wicked, grinding crunch of founding member, Scotty's rhythm guitar and stage banter, right? Sort of. Note: Some fans may differ, but I say this because I mostly tuned out during the non-Belladonna years.
I assumed that a guitar tech might fill in thunderous effect that Scott brings, but Shadows Fall shredder extraordinaire, Jon Donais, shouldered the load himself. The band was blistering and tight and so loud that they did a commendable job in the situation with such short notice. Fucking pros. As promised, they played Among the Living in its entirety (well, "Imitation of Life" wasn't played), but not in sequence. I'm not sure if it was a last minute change due to Ian's absence or if they've been doing it that way. Listening to the videos again it is more obvious that a guitar is missing than being drunk at the live show:
"I Am the Law"
They busted out "TNT" and Joey did a better-than-Bon-Scott Bon Scott from their collection of 70s arena jams titled Anthems
"Indians" Besides the 2-guitar assault, Scotty was missed during classic banter moments like the Waaaar Daaaaance!
"Got the Time" is one of my favorites. It's so catchy that despite being hard and fast even non-metal fans can't help but to like it:
"I'm the Man" is another one where Scott's absence was glaring. The thick New York accent gives the rock/rap some cred and he is the yin to Frank's yang on this one. They closed with a "drum solo/ I'm the Man / Antisocial" medley. At one point – somewhere between I'm the Man and Antisocial – people in the pit began vomiting in unison. I thought maybe Scotty was spreading the disease (get it?) from afar, but it was more likely the mixture of beer and exercise, but about 5 or 6 people began vomiting in close proximity of one another a la the pie eating contest in Stand By Me. Metal!!!!
Come to think of it, I don't think Exodus played because Municipal Waste was before Anthrax. So Scott got sick and Exodus wasn't even at this show.