Rocktober, as I so originally dubbed this month, in central Florida is off to a great start with Phantogram, the American Carnage Tour already passed, and LCD Soundsystem with Sleigh Bells Tuesday, October 5th at the Hard Rock Live. This is the first time for either of these bands to play Orlando and they popped our cherry good.
Sleigh Bells' outrageously infectious and subtly heavy noise pop kicked off the show. This Brooklyn duo creates a fuck-ton of volume and sound for 2 people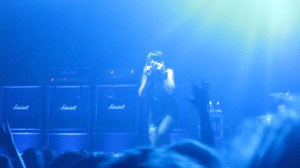 and an iPod. They played the majority of their debut album, Treats, with ear-splitting high energy. Derek Miller's guitar wailed as the sexy Alexis Krauss screamed and danced through their small, but powerful setlist including "Kids," "Tell 'Em," and the closer, "Crown on the Ground."
I've always had a sort of sentimental draw to the feeling LCD Soundsystem creates, but never was a real fan. That changed last night. After speaking with drummer, Pat Mahoney, I got a sense for what the live show was like – how they would deliver these mostly electronic dance pop tunes. He said it was mostly organic with just about all of the sounds being reproduced live by the various members of the band. They delivered. The live production breathed life and soul into their already charismatic catalog.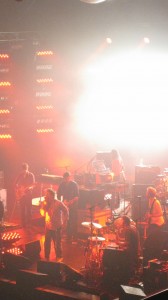 Pat on drums and the seductive Nancy Whang on a myriad of synth and assorted keys seemed to steal the show. They were assisted by a number of other musicians, working in guitar, bass, and all kinds of percussion to recreate (and outdo the recorded versions) the swell and build of songs like "Dance Yourself Clean" and "All My Friends." They ended the first set with "Trials and Tribulations" then incredibly powerful and high energy, barn burning versions of "Movement" and "Yeah." The 3-song encore included "Losing My Edge." This song is a popular fan favorite, yet sort of a sleeper for me – but not live. It surged and roared as the lighting that surrounded the stage pulsed and swirled creating an epic show stopping wave of sight and sound.