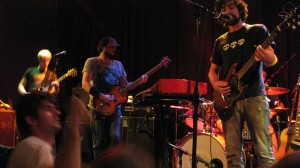 The show opened with Pearly Gate Music which was some guy with an electric guitar that reminded me a little of Lilly Taylor's character in Say Anything, I kept waiting for him to belt, "Joe lies! / Joe lies when he cries!" The music was quiet and poignant, but if that's what music sounds like at the pearly gates, then I'm glad I'm going to hell. His MySpace music player sounds like he mixes in more instruments for the recordings to be fair.
Avi Buffalo played a short set punctuated by their super-catchy single, "What's in it for?" The group was stripped down since the last time they were in town opening for Rogue Wave. It seemed like there were more members of the band last time. I'm not sure if this was a trio to tour with Blitzen or a new direction for the group. The way the diminutive Avigdor's (Avi) guitar playing is progressing he could find success as a 3 or 4 piece.
Blitzen Trapper took the stage earlier than posted to begin a really weird and short evening. The bass from DJ Scratch 'n Sniff upstairs at Sky 60 was rattling through Trapper's rather loud performance. At one point they asked if that was a theme in Orlando, "if House music just pumped everywhere you went." Something was up – full moon maybe? The crowd was thin in number and odd in personality. Some music fans were peppered throughout, but the crowd was dominated by frat meatheads, slutty college girls (not that I'm complaining), and a strange proliferation of cougars.
People were sloppy drunk and engaging the band in weird banter. Singer, Eric Earley, proclaimed that both of his harmonicas broke (I'm not even sure if that is possible). Finally, Eric sliced open his thumb (I think while struggling to open a beer bottle) and stopped playing to seek out a way to ebb the bleeding. Whilst wrapping his thumb in duct tape, a girl emerged from the audience with an unopened box of bandages. I asked her, "What the hell are you doing with a box of band aids at a show?" She responded, " I know, it's weird. I just bough them today."
They did forgo one of their coolest songs in "Wild Mountain Nation," but still had enough tunes to make for a good show. BT has that sort of 70's radio, southern mountain rock feel like the Ozark Mountain Daredevils, which sounded great and well-played when the chaos dimmed enough to focus on the music.