Australia's Tame Impala is what I've been waiting for. The alternative music scene is bustling with lush pop songwriters, nifty duos, and electronica hybrids which are all great, but sometimes a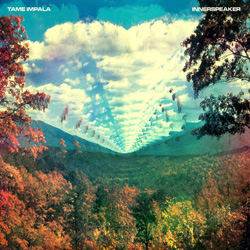 dude needs a little rock! It is nice to hear a fresh treatment to straight-forward guitar rock and Tame Impala is able to do so with a contemporary twist on 60′s rock 'n roll.
Two trends in indie / alternative seem to have a strong hold at the moment. There is the 80′s influence evident in the likes of Julian Casablancas, Cold Cave, and Yeasayer with another retro movement focused on the sounds of the 60′s – from the Brill Building pop emulation of She & Him, and Cults, to the late 60′s psychedelia of the new Smashing Pumpkins material, Hot Rats, and Tame Impala.
Their first full-length album, Innerspeaker, manages to bring the musical charge of guitar rock pioneers Blue Cheer and meld it with a late-era Beatles charm. "Desire Be Desire Go" slogs out a thick, chunky fuzz riff with a McCartney-esque lead vocal that breaks into an expansive middle-end jam reminiscent of Cream. "Alter Ego" floats on mind bending, space-age layers of guitar and synthesizer while the vocals swirl in reverb. Fancy little stops are thrown in to reveal a band with tight song construction and while the track progresses faster and faster to crescendo, it never becomes too hard – the gloopy, drooling paste of psychedelic charm seems to smooth out the edges.
This band is going boldly where other band's have gone before, but using some of the best tricks in the bag to breathe life into the modern rock scene. Impala digested the finer points of the past to produce some of the freshest sounds in alternative music which is a difficult maneuver; reinventing a sound and feel whilst steering away from derivative retreads.
Written for REAX Online 6.20.2010