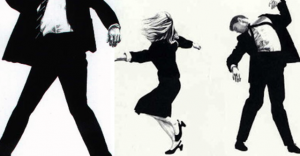 Duos, duos, duos – what the fuck? They are everywhere, crowding the music scene with interesting variations of electronica, pop, and rock. Of course there are The White Stripes and The Black Keys, but it goes way beyond that. Let me see, there's The Big Pink, Sleigh Bells, Phantogram, Crystal Castles, The XX, Ratatat, Dirty Projectors, Xiu Xiu, Matt and Kim, Japandroids, YACHT, and what seems like hundreds more. It may have something to do with the economy, the new music model, technology or more likely a combination of all three. By that, I mean with profits falling, touring becoming more costly, and technology allowing artists to create richer, fuller music and perform it with limited live instrumentation may be causing an underlying tendency to streamline the concept of the traditional band. Whatever the reason, duos are ruling the indie scene and Cults is one of the newer groups to enter the fray.
Cults is a band steeped in mystery – at least for now. This could be purposeful in order to develop a rock facade or unintentional due to the quickness of their proliferation. With heavy airplay on satellite radio and a far reaching groundswell rumbling on the blogosphere Cults quickly became a band to watch. With only a Band Camp site and 3 songs available for download Cults seems woefully unprepared or deftly calculating.
Go Outside is the first single from the EP. A song that feels light and uplifting reveals, on closer inspection, a sad and desperate plea to overcome depression. The track is eerily low-fi and simultaneously sugary sweet. It begins with a creepy recording of Jim Jones pleading with his flock, then a simple melody on xylophone. Next come the spectral layered vocals given the bottom-of-the-well production treatment, light guitar, organs, and a chunky bass line mashed out on a synthesizer.
Cults may be the strongest entry in the wave of 60 retro pop because of the power of melody and musical nuance. "Most Wanted" and "The Curse" like "Go Outside" embrace pop vibrancy while simultaneously imbuing dark undertones. These songs sound like they walked right out of the Lesley Gore or Ellie Greenwich songbooks and got smacked around by Pro-Tools and strokes of modern irony along the way.
Written for REAX Online 6.12.2010