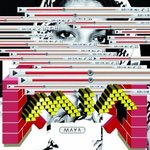 M.I.A's new, grinding cacophony MAYA is an album crafted for the new "connected" society. Themes and sounds are piled in a shaker, swirled violently and poured out in clumpy snippets of odd melodies and mish-mashes of style and presentation. It is like MAYA was made by and for the ADD, short attention span of the modern human.  The album shifts and jerks mercurially from boastful hip-hop and college party anthems to subversive political propaganda.
From the albums title MAYA, spelled out in slashes – /\/\ /\Y/\ – to song titles like "Space," "Caps Lock," and the fun, slammin' Afrika Bambaataa sounding "Internet Connection" along with social media references like "XXXO's" "Tweeting me like Tweety Bird on your iPhone" MIA is reporting from the crossroads of information and art. This is a place suited to both the hipster partier and incendiary politico within her.
"Lovalot" seems to tell the tale of repressed Muslims, shedding light on what pushes youth to become martyrs. She slurs "I fight the ones that fight me" and her south London drawl on the chorus, "I really love a lot" come across like, "I really love Allah." Her first single "Born Free" charges aggressively with punk agitation and apoplectic, electronic fervor serving as a global anthem to fight oppression.
MIA's affinity for noise pop – she loves Sleigh Bells and signed them to her label – is evident in the overloaded approach to this album. In fact Derek Miller from Sleigh Bells works the giant guitar sound on "Meds and Feds" although the riff sounds like a rehash of "Treats" from SB's album of the same name. MIA works with Diplo again among others and applies some noise pop to her already jittery arsenal of heavy beats, fondness for clicks, whistles and sirens, and mash-up of cultural influences; from Arabic vocals and instrumentation to incorporating the heavy dub scene in Brooklyn.
MIA's political overtones, you know the self-righteous tone liberals get with too much college and NPR, seems to be diluted by songs like "Steppin' Up" where she declares "You know who I am / I run this fuckin' club" and "Teqkilla" with raps about Captain Morgan and doing too much coke. The "sticky icky, icky weed" part is pretty cool though. Despite all the layers and splintering sounds, the party songs, and the political call to arms, it is the straightforward, softer edged pop songs that stand out. "It Takes a Muscle," "It iz What it iz," "Tell me Why'" and  "Space" are less abrasive and hum along with smooth pop grooves. While MAYA is criticized for being "all over the place" it is a true representation of the times and becomes more understood with every listen.
Written for REAX Online, 7.22.2010