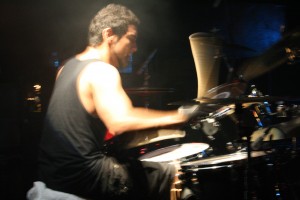 What happened to the days when metal shows played late into the night? Maybe they still exist, just not when Firestone has a hip-hop club night to host. I was excited to hear Prong do classics like "Prove You Wrong" and "Snap Your Fingers, Snap Your Neck" live as I missed them the first time around when I was 15 years old. No go. The doors opened at 6 (6!) despite their website's proclamation of 8 PM. Alas, no Prong for me, but following a brief hassle at the door I was able to check out the end of Soulfly's crushing set. Max's classic "demon-choke" voice was grizzled and mean standing strong in front of a wall of guitar. Energy levels were high as they chugged through a grab bag of Soulfly and Sepultura's greatest hits including "Babylon" and "Roots Bloody Roots" As I was held up at the door, I swore I could hear Slayer's "Angel of Death." Had I known it was going to be a classic thrash bonanza like this I would have been the first in line. One of the highlights of the show was the surreal mingling of Firestone's Sunday evening club crowd and the gnarley bunch of metal degenerates at the doors following the show. No one was hurt.
"Babylon" Listen for me to get chucked out from behind the stage by a bloated and surly roadie.
"Roots Bloody Roots" from Max's other band Sepultura.
Written for REAX Online, March 8 2010