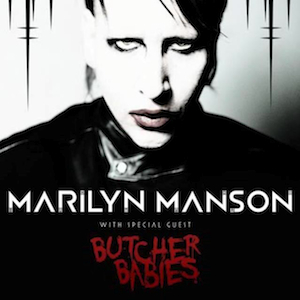 Marilyn Manson is not what he used to be. I think the first time I went to see Manson was at the 2003 VooDoo Fest in New Orleans. On the Halloween weekend, this was Manson's time and he delivered. A loud, aggressive festival pleaser, his set was monstrous and full of energy and elaborate props. He sealed the deal when he jammed the microphone into the ass (a fake ass) of a masked stripper and sang into her presenting rear end. I saw him a year later at the Tabernacle in Atlanta where he eviscerated yet again.
Fast forward to 2007 and his tour with Slayer, which was a mismatch to begin with. Nobody can hang with Slayer. Marilyn didn't help matters by playing a short, weak set while out of his mind on coke. I'm assuming he was diggin' into the boogie because after every song he left the stage, walking straight out the back to the loading dock for 3-5 minutes. Every song! He didn't seem engaged at all and the band seemed off. Following the show the consensus was that Slayer blew him off the stage.
When I saw that Manson was playing at the Hard Rock Live in Orlando I said, "Fuck it, I'll give him one more chance." I feel the time is right for a character like MM to make a statement. He was bloated around the middle in a very unhealthy way; like he has some hormonal condition or his adrenals are shot from years of amphetamines. The stage set was chintzy, the show was short – maybe an hour and 15 minutes, the band wasn't as good as earlier incarnations, and again, one of the best front men in the business was not engaging – even being in his home state. It seems to be the same abbreviated set he is doing opening for Alice Cooper.
He might have been sick and not on drugs (that wouldn't be as cool, but also explain the constant snot rockets), but seeing him like this and with Slayer makes it look like he's phoning it in now. I gave the new album, Born Villian, a listen for a few days and I liked its more stripped down, straightforward hard-rock approach. I thought he might be back. He wasn't.
The great thing about Manson is he still knows how to make an entrance:
He still has all of his grotesqueries; the insane, grim facial contortions and jagged body postures inspired by The Evil Dead as you can see in "Antichrist Superstar", but his presence is less intense. Even the things that once shocked now seemed contrived. The shredding of bibles and licking of Twiggy's body just seem like he's hitting stage marks. I see nastier stuff on Bravo. The shock and awe he once delivered is mainstream – thanks to him – so now it seems tired. He's really smart and probably has a lot to say about our current state of affairs. I just don't hear it.