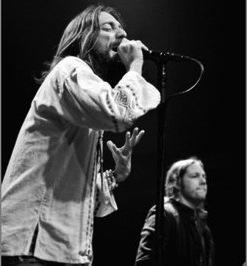 The Black Crowes are back for the Lay Down with Number 13 Tour, a tour that came seemingly out of nowhere. The last thing I heard was Crowes' drummer, Steve Gorman, on Mohr Stories saying that the band was on an indefinite hiatus. So sometime between the release of Jay's podcast at the end of 2012 and March of 2013 the band recruited lead guitarist Jackie Greene (taking over the role of Luther Dickinson) and trained him up to play a Crowes tour which usually involves an extensive list of songs.
I was eager to see this new fella play considering the long line of greats he was replacing. He did not disappoint. Jackie may not be at 100% integration just yet but he took the Black Crowes catalog on head first. His playing seems more melodic and falls somewhere in between the ethereal Marc Ford and the heavier Luther Dickinson.
A good gauge of the Crowes is where they take "Wiser Times." The guitar interplay, the harmonized vocals, and the song's epic highs and lows turned into a monster in concert.
"Wiser Times"
This was also my first time at The Mahaffey Theater and besides the early start time and the obnoxious "fans" in the upper section that spent more time screaming at people to sit down than actually watching the show it was a really great venue.