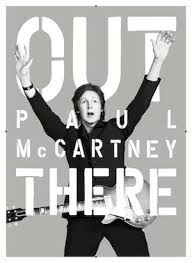 When I first heard Sir Paul McCartney was kicking off his Out There tour at the Amway Center in Orlando, FL my response was, "meh." Then I was was like, "wait, this isn't Sting. This isn't going to be the adult contemporary mom party I think it's going to be. It's a fucking Beatle!" I have to see a Beatle before they call it quits, right? Paul McCartney's post-Beatle catalog is staggering and songs like, "Baby, I'm Amazed" and "Band on the Run" are near perfect songs in themselves, but the chance to see rock 'n roll history is one that shouldn't be missed. I will never stop kicking myself for missing James Brown at the House of Blues in Orlando. Actually, that is one of the biggest motivating factors to see Sir Paul. This is a lead figure in the best – if not, most influential – rock band in human history.
They opened with "Eight Days a Week" and I teared up a little. The fucking guy that wrote "Eight Days a Week" is playing it in front of me. When will I get that chance again? I wasn't sure what to expect with McCartney's performance. I thought it would be a big production, but it was basically four guys with a fifth guy filling in as a multi-instrumentalist. This gave the show even more punch as it was basically a straightforward, amped up rock show.
"Ob-la-di Ob-la-da"
Paul was charming and funny, regaling the audience with bits of rock history and insight from the Beatles and his years on the road. It gave me chills similar to Bob Wooten's banter during the Tennessee 3 show in Orlando. It's just awe-inspiring for me to hear the stories of rock legend told by the people that lived through them. Bob told tales of walking into Sam Phillips studio with Johnny Cash and McCartney would tell stories like the time Hendrix performed "Sgt. Peppers Lonely Hearts Club Band" only two days after the album was released and how he needed Eric Clapton to tune his guitar after. This is pure gold for a rock fan or any student of the humanities really.
He paid homage to the other Beatles through story and song like he did with this sweet ukelele version of George's "Something."
"Helter Skelter"