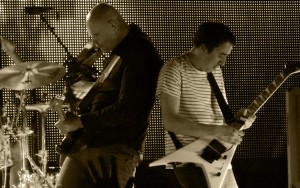 The Pumpkins broke from their world tour dates in Florida to join the roster at a few festivals including the Funshine Music Fest at Ax Gary Amphitheater in Tampa. Here, they do a paired down festival set aimed at a broader audience. In this instance an audience that includes fans of Train and Phillip Phillips. Who the fuck is Phillip Phillips btw? Not for nothin' pal, but your parents are dickheads. Phillip Phillips. While those monsters of rock played in the giant amphitheater, SP played a side hall that was better suited for a rodeo or a livestock competition. With the tropical shit storm that sat on Florida for nearly a week it was actually way better that they played inside. The hall was rather big too with about 3,000 in attendance that caught the opening "Cherub Rock" and "Bullet with Butterfly Wings" then bee-lined to Train leaving about 1,500 SP fans to enjoy the rest of the show that was a modified version of the full shows in Melbourne and St. Augustine.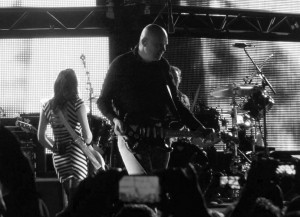 They were mercilessly loud. Mike Byrne is playing his heart out, Nicole Fiorentino looks and sounds wonderful, Jeff Schroeder is absolutely killing it and even picking up more lead duties, and Billy appears to be having a great time. The Smashing Pumpkins are a force in concert. Seeing Anthrax, Rush, the Smashing Pumpkins 3 times, and The Black Crowes twice in less than a month along with the release of new Queens of the Stone Age material has got my dick hard for rock. It's making me realize just how tired I am of two-man laptop bands and "indie" dog shit.
"Zero" with a cool melodic intro
"XYU"
As is customary with SP stops in SW Central Florida, William Corgan Sr. makes an appearance.
"United States" a song that should be a rallying cry for a people that is having their way of life hijacked by a corporatized, criminal government
What will they do to you?