The Tiger Lillies descended on the quaint little Jaeb Theater (apart from a dingy German cabaret – the perfect place for this show) at Tampa's Straz Center for the Performing Arts Thursday night to deliver a varied and open set of their unique brand of musical mayhem.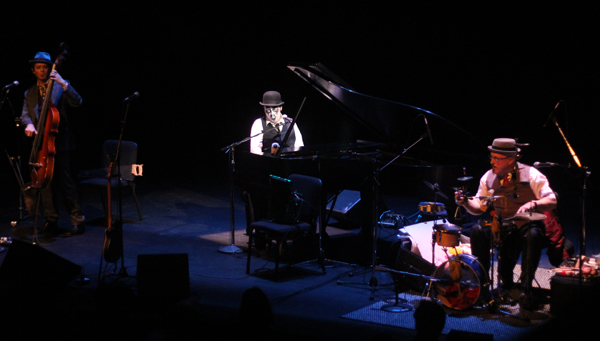 The set was so open in fact that it seemed like the set list was evolving as the band played.  The ferocious and brilliant Martyn Jacques, looking like a drunk Dickensian Gene Simmons would abandon intros and stomp off stage to grab sheet music in order to play a different song. He would survey his instruments (He moved from his trademark accordion to piano and guitar throughout the performance) in between songs as if to ask, "What do I feel like doing next?" and band member's Adrian Huge (percussion) and Adrian Stout (bass, theremin, saw) would key in on Martyn, waiting for cues as to what came next. Martyn's voice was another instrument; tackling his trademark shrill falsetto, his gravely, deep Tom Waites-like low-end and everything in between with ease.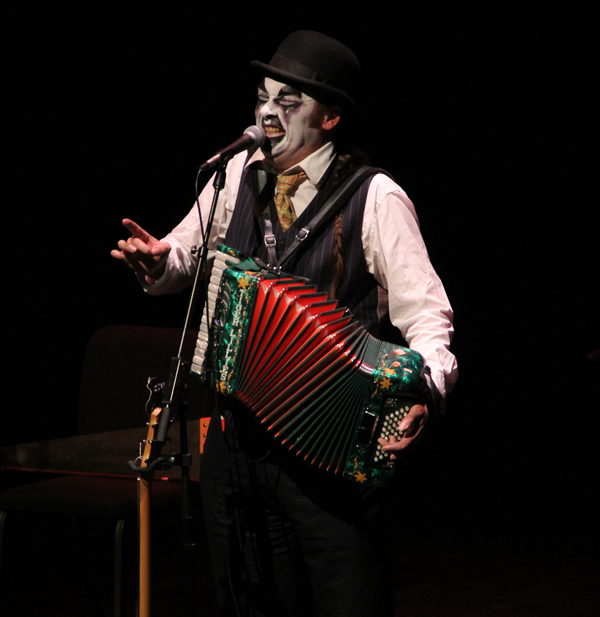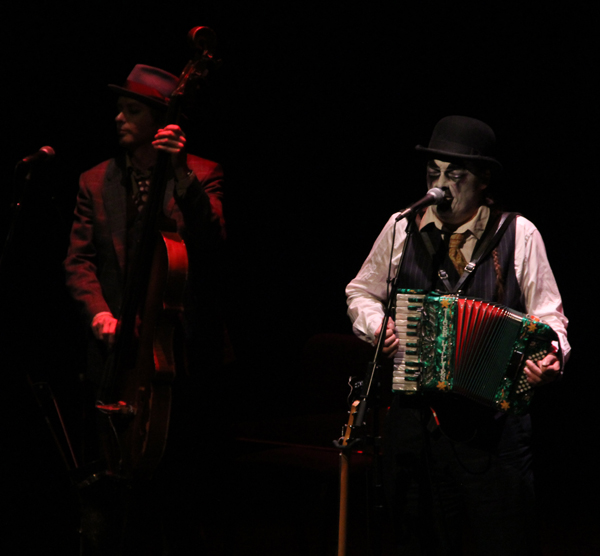 The Adrians' were astounding. Stout "walked the dog," slapping at his upright bass like it owed him money, creating a smooth, chugging backbone for most songs. On other tunes he added eerie ambiance with the theremin or saw.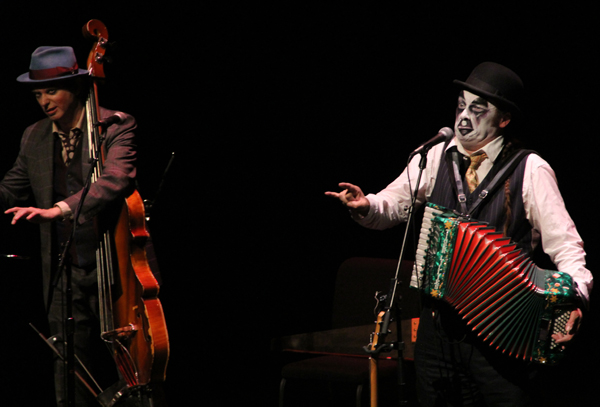 Huge is one of the wittiest and most inventive percussionists I've ever witnessed live. His sturdy frame added delicate rhythm and subtle melodic charm for the duration of the evening. He played a rag-tag kit that would make a hair metal drummer gasp and faint at its austerity. A bass drum from a child's kit adorned with a rubber chicken was accompanied by a piccolo snare and tiny tom-tom. Accents were added with a disheveled rack of varied, tiny splash and china splash cymbals. He also had a tool kit that allowed him to add percussive genius with tambourines, triangles, woodblocks, squeak toys, and even play a song with nothing but a mirrored disco ball and a rhythm egg. The Adrians' added that twisted cabaret / vaudeville charm with their antics, attire, backing vocals, and humorous banter.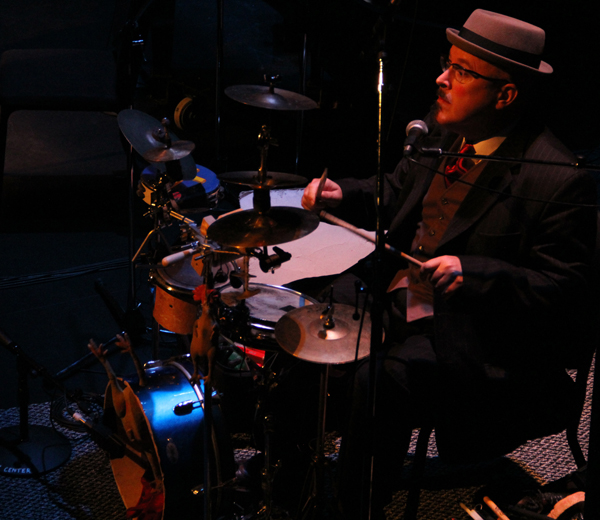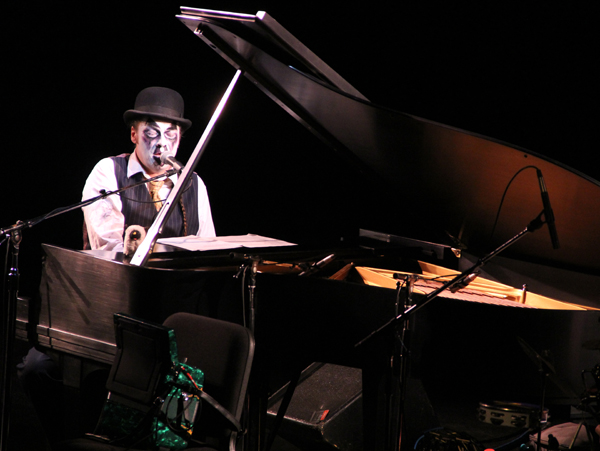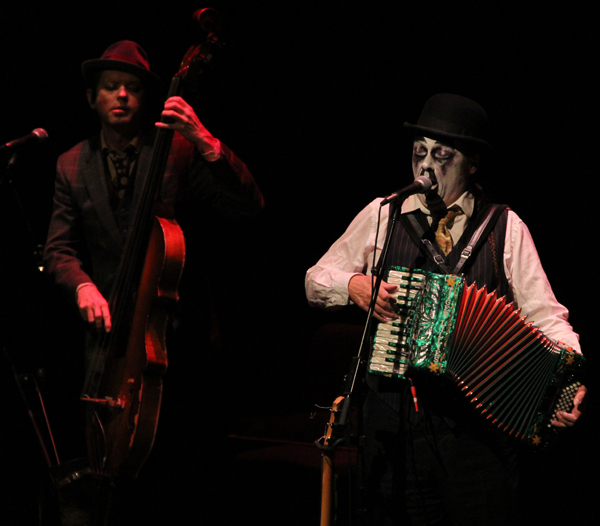 The Tiger Lillies just wrapped up a Vienna residency performing their latest twisted and depraved tale in Georg Buchnor's Woyzeck, and more recently Sinderella in Brooklyn earlier this month. As Jacques noted in our interview, he was excited to play a more wide-open set list and move away from the theatrical show pieces. The Lillies were all over the map and played songs from various points in their 22-year career. Their darkly humorous brand of macabre songwriting ranges in subject matter from death and vice to lunacy and love. They worked the crowd into frenzy with classics like "Banging in the Nails" (a song about the first-hand joys of crucifying Jesus), "Gin" (from The Gorey End, about a worldly soldier's terminal addiction to drink), and "Bully Boys" (a bullied child's violent revenge). They opened the floor to suggestions and among all the calls for a wide variety of songs they played "Piss on Your Grave" (a wildly awful story about killing just about every major figure in the bible then pissing on their grave) and ended the show with Hamsters after an audience member derailed their attempts to close with another song with her constant calls for "Hamsters!" To give you an idea about the song is about, the show ended with Huge comically tugging on Jacques ass as Stout made grinding sounds on his bass. Huge yanked hard to remove a giant hamster from Martyn's ass. – pretty awesome.