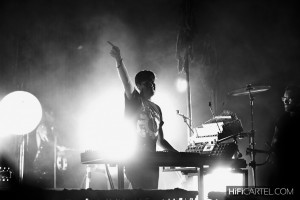 The new wave of New Wave is here! The Beacham hosts two of the most promising acts in the 80′s mod revival in M83 and Active Child. Opener, Active Child, is back with a follow-up to last year's groundbreaking EP, Curtis Lane. Crooner and harpist (yes, harpist) Pat Grossi is touring behind his latest LP in the enchanting You Are All I See with a few more musicians than his last show at The Social. A live drummer is certain to add another dimension to Grossi's alternative chamber pop.
M83 will amp up the 80′s prog-goth with a touch of shoegaze. Only 2 weeks in to their North American tour behind Hurry Up, We're Dreaming the French band – more precisely Frenchman, Anthony Gonzalez – are getting rave reviews and drawing large crowds. Expect big sounds moving back and forth from wall-shuddering dance tunes to reverb-drenched alt rock and sometimes both seamlessly intertwined.
"Midnight City" from M83′s latest album:
This video for "Wait" is sad and a little disconcerting which makes it pretty good:
M83 – Wait from Franck Deron on Vimeo.
Incredible debut song from Active Child, "I'm in your Church at Night"