Representatives from Orlando Health and the Arnold Palmer Medical Center along with founders of the new rock music festival, Orlando Calling (including Festival Republic's CEO Melvin Benn), and the ubiquitous Joey Fatone gathered at Arnold Palmer Hospital for Children today to release some great news. The Orlando Calling event donated 10-large to benefit the Music Therapy Program at the hospital.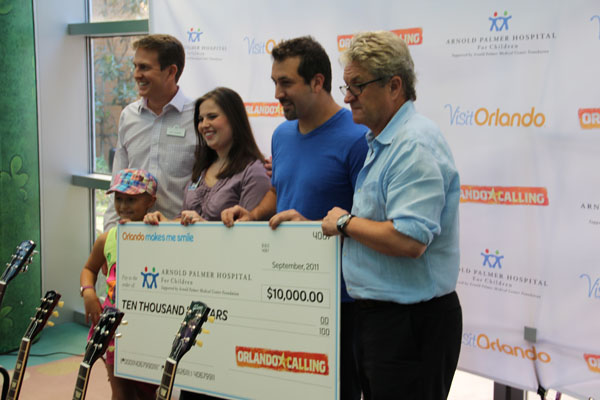 In addition to the giant check – literally (I know a place we can cash that right now) – they facilitated the donation of four Gibson guitars to be auctioned for the program's benefit. These lucscious axes will be signed by Orlando Calling talent including Bob Seger (Seger!) and The Killers.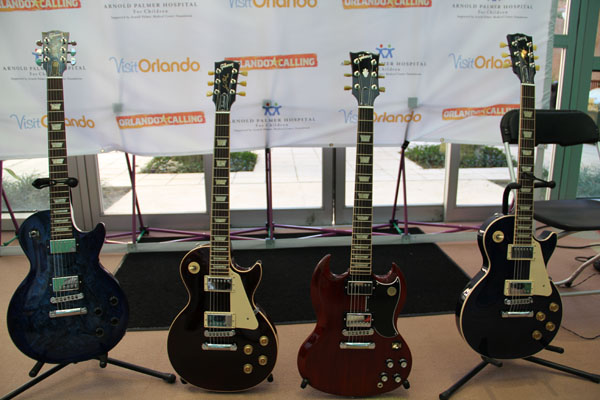 The Music Therapy Program is made possible through Joey's My Healing Harmony – a program of the Fatone Family Foundation. The program provides a credentialed music therapist to assist children as they heal and grow through music. They help hospitalized children learn instruments and understand music theory as a way to relax and cope with pain and discomfort in addition to providing channels for socialization and self-expression.
Local band and Orlando Calling performers, Savannah, played in the hospital's atrium. The stars of the show were the hospital patients including a little girl that strummed guitar with the band, twinkled out some melodies on the keyboard, and sang an Adele cover with Joey on bongos in the therapy room.