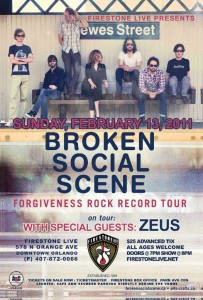 OK. This show was weird. Not crazy or anything, but the presentation was kind of stilted and incongruous. Broken Social Scene sounded great and worked a thorough playlist that included "7/4 Shoreline," "World Sick," "Texico Bitches," and "Lover's Spit," but lead singer, Kevin Drew, was battling laryngitis or lung issues and made it known. His voice sounded pretty good, but very early in the show Kevin revealed he was in a great deal of pain and was losing his voice. This notion and his obvious discomfort, first, made every song seem like it was the last. The crowd just kept getting the feeling that the show was going to be called any minute.
Second, it led to some interesting improvising with the set as they scrambled on-the-fly to work in songs where he didn't have to sing. Some songs for female vocalist and super-cutie, Lisa Lobsinger, were arranged sequentially including "All to All," then a series of instrumentals were brought out. After her songs I thought it was over. After the instrumentals I thought it was over, but they kept playing. Then Kevin returned to do some softer versions of songs including "Superconnected" with a little Modest Mouse "The World at Large" lyrics sprinkled in for good measure. Now I thought it was over for sure as he kept pointing to his throat and people off stage were pointing to their watches (in preparation for Latin Night which fucks up every show because they start earlier than listed BTW).
Next they continued with some songs that were definitely vocally challenging because there was more loud singing and he soldiered through. They played "World Sick" which I thought for sure would be the closer. Then they played "Lover's Spit" which seemed like a perfect outro. Then they asked, "One more song?" They proceeded to play two. So I'm not sure if he was sick, rebounded a little at the end, or their dedication to the audience made him fight through his ailment, but it ended up being nearly 2 hours and didn't come across completely seamless. Other than that I liked it.