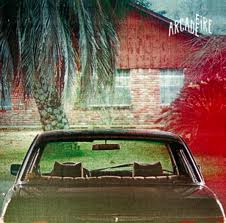 Arcade Fire's newest album, The Suburbs, is a musical encapsulation of the experience growing up in the suburbs, USA (maybe Canada). One perspective is the oppression and banality of tract housing and strip malls that angst-y youth rail against. Another is that of the reminiscent adult waxing whimsical and romanticizing a misspent youth, the sneaking out of windows at night or taking a parent's car to pick up a summer love  – the powerful memories tied to youth that makes suburbia so magical and fun in retrospect.
The first half of the two-part composition, "Sprawl" and "Sprawl II" are at the album's end, but speak directly to the dual view of a life in the burbs. Sparse and chilling, Win Butler opens by moaning, "I took a drive into the sprawl / To find the places we used to play" – the sentiment of a middle-aged man trying to find the lost memories of childhood.
"Sprawl II (Mountains Beyond Mountains)," spunky and sassy like Blondie meets Siouxsie Sioux is sung by Win's wife Regine Chassagne. This could be the best song on the album. It saunters and shambles with driving pop energy, but fits perfectly within the concept on The Suburbs. She sings, "Sometimes I wonder if the world's so small / That we could never get away from the Sprawl / Livin' in the sprawl / dead shopping malls / rise like mountains beyond mountains / with no end in sight "– the anecdote to Win's introspective journey back to the place Regine seeks to defy.
The Suburbs pulls the best pieces of AF's previous two albums together; the large sweeping orchestral and anthemic pop of the first album with the drive and rock edge introduced on Neon Bible. From the opening Wilco-ish track, "The Suburbs," where they sing, "All of the houses they built in the 70's finally fall" and "Ready to Start" which has a touch of 80's Springsteen Americana, to the killer single, "Modern Man" with its "Jesse's Girl" rhythm guitar, the songs relay the tribulations and triumphs of those who know suburbia. It's like white people's Straight Outta Compton. Arcade Fire makes a powerful album, successfully juggling all the feelings that go along with growing up there (here).
Written for REAX Online 8.21.2010