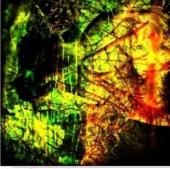 San Francisco based artist, Chelsea TK, has her first official full-length release in Terra Attero. It is a boisterous and swirling amalgamation of style and soul infused with layers of instrumental loops, driving drum work, clever electronic bits, and Chelsea's expansive, entrancing vocals.
TK glides from soul diva to alt rocker from track to track and sometimes within the same song. "No Man's Land" opens with a simple guitar intro – almost like a "Cat Scratch Fever" on qualudes  - followed quickly by her vocals singing over layers of her own soulful backing tracks. The acute groove is accompanied by gliding organ strokes in the verses, while the bridge builds mightily to the chorus, creating a great sense of build and release.
"Exciter" fights with "No Man's Land" for strongest single in the collection. "Exciter" (Not to be confused with the KISS song of the same title) combines the same intense drum work and the weaving rhythm guitar present on nearly all the tracks while adding precise, big sounding horn lines and trippy electronic interludes.
This album is mostly the work of Chelsea and producer / drummer Rick Perez. Chelsea is currently gigging with a complete band, The Tzigane Society (Ugh, a silent "T" and a "z"!) that is sure to invigorate the textured layers of looped instruments found here – breathing even more life while adding some edge to the presentation.
Terra has touches of neo-soul and indie rock peppered with electronica and world music, with dashes of jazz and 60's psychedelic beat poetry (especially on "Your Voodoo") and a twist of 80's goth sexuality – like the slinky sensuality of "Tender Call." Efforts to label Chelsea's work and draw comparisons has me chasing names like Florence and the Machine, Beth Orton, and late Radiohead, but not finding an exact fit, asserting the notion that something very original is unveiling itself on Terra Attero.
[media id=48]

Learn more about Chelsea TK and The Tzigane Society's music