Now that's how you fucking do it! You play some old songs, some new songs, some "classics," some re-worked versions of songs and extended jam outs of others. You come on for an encore and do a catchy upbeat rocker that is your latest release then slide into a searing, passionate concert ender – shake the rafters with distortion, melt people's faces, lay your axe on the monitor in a swirling haze of sonic chaos and wave goodnight. That's how it's done SON!
Fans got to the House of Blues in Orlando as early as 11:30 AM to wait for a chance to get a wristband that allowed them into the super-secret soundcheck concert. Here the Pumpkins would do their soundcheck and test out a handful of unreleased music waiting to find its place in the line of Teargarden by Kaleidyscope releases.
Bad City opened the evening with volume and energy. They sounded something like White Lion meets Ratt or Shotgun Messiah or the Crue – just cock-rock to the core, but it was fun. Next up was Chicago's Kill Hannah who seemed to have a semi-strong fan base there for them even though they sound like a Stabbing Westward cover band.
The Smashing Pumpkins took the stage just before 10 o'clock and crushed the House of Blues with volume and intensity. The HOB was a sardine can of energy for the duration of the 2+ hour show. Fan feedback was positive and upbeat for the new songs like "Tarantula," "Song for a Son," and "Freak" as much as they were for alternative rock pillars like "Hummer," "Cherub Rock," Bullet with Butterfly Wings," and a fiery, grooved-out rendition of "Ava Adore."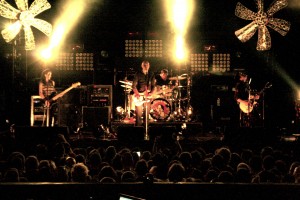 The new band is rock solid with Jeff Schroeder absolutely shredding and sharing lead duties with Billy. New bassist, Nicole Fiorentino, is as good as any bass player SP ever had and she has only been there for 2 months. Mike Byrne, musical prodigy and 20 year-old replacement for Jimmy Chamberlin on drums, is absolutely phenomenal and was able to carry the incredibly heavy load of a live Smashing Pumpkins gig. The band was tight and playful as Billy and team shot glances, smiles and laughter back and forth. From my vantage, no one got the dreaded "You fucked that up" scowl that Billy can shoot from time to time – except maybe a sound guy off on stage right for the first few songs. Even then, Billy seemed to laugh it off. Before lighting into a sintering "Cherub Rock" Corgan joked that the show was over because he had some hookers and blow waiting for him in his big limo. He was going to listen to some Lady Gaga and do some line lines off a hooker's back. "That's why I got into this," he joked. Billy seemed relaxed, yet energized while the new members not only played from the Pumpkins catalog, but were comfortable enough to add their personal touch to make the songs their own. The new SP is for real.
"Hummer"
"As Rome Burns"
"Widow Wake my Mind"
"Freak"
"Today"
Written for REAX Online 7.20.2010