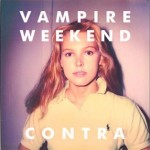 I've always had a hard time identifying with Vampire Weekend. Maybe it's because I didn't go to an Ivy League college or that I don't understand the desperate pleas to "Get out of Cape Cod," but whatever it is, it irks me on some level. From a certain perspective it seems sniveling, egalitarian, and condescending. Take "Horchata" – the first song from the new album Contra 'it's like a chai's and latte's are just too bourgeois to sing about.
From another vantage, minus the snooty, loafer wearing, sweater-over-the-shoulder New England elitist perspective, VW is a fresh, clever, and slightly innovative take on pop rock. The comparisons to Paul Simon are all valid, but they deliver their Graceland meets The Talking Heads sound with a four-piece band.
Contra delivers the Vampire Weekend sound we recognize from their debut without sounding retread. To the contrary, it sounds fresher, tighter, and more mature. Their influences broaden, but they incorporate them more seamlessly and inventive than before. "Horchata" with its vocal, xylophone intro that sweeps into a large pounding rhythm section with synthesizers and back again starts the album off in familiar fashion, but subtle twists are added to reveal influences. VW sites Paul's Boutique, Brazilian Baile Funk, dancehall, Bollywood, and 1983 NYC among many others as inspiration on Contra and they're felt.
A recent live, acoustic performance of  "Cousins," a kinetic, fun, and catchy single that sounds like it could be from the chase scene in Ferris Bueller's Day Off, shows the band to be precise and polished. They've stepped up the musicality as they move through the rapid pace and frenetic changes. This allegro delivery, also evident in "Holiday" and "California English" almost serves to make VW harder. Not really heavy, but a little more "edge" while preserving the playful poppy-ness that people hold dear. Despite the quickened pace "California English" still manages to used layered backing vocals – almost like a string section, then, bring in some real strings for the bridge to smooth out the tune.
"Run" implements a clever percussion pattern, building up to a ska infused horn part and bursting into a chorus of 80′s electro pop. "Giving up the Gun" continues the reliance on nifty drum beats but leans more heavily on the electronic influence of loops and synth parts twisting around driving bass lines to deliver. Love 'em or hate 'em Contra further establishes Vampire Weekend as a serious contender in defining their sound and soul.
Originally appeared in REAX Online, February 2, 2010