A full moon hung over the perfect storm that brewed below on the streets of downtown Miami. On a near 80 degree night in late-December, New Year's Eve revelers, Phish heads, and Lady Gaga fans came together in such a mind-boggling confluence that it didn't merely defy the laws of physics, but actually tore a hole in the space-time continuum. A  black hole, a swirling vortex of ravenous nothingness actually appeared over Biscayne Bay for a brief moment.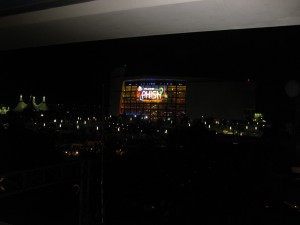 Droves of screaming maniacs, laden with glitter and noise makers roamed madly around the streets and sidewalks of the James L. Knight Sports Complex Рand those were just the New Year's Eve partiers! As I made my way through the downtown Hyatt, a rather large, gay man in a sparkle shirt and some type of sequined bald, skull cap stormed by with two over-sized Latino girls in under-sized tutu's. Face bright red with his eyes blazing wildly, he began yelling out loud, "Oh my God! Oh my God! Please! Please, if you find a ticket on the floor, please give it to me. It's mine and it fell out of my pocket РOh God! Oh my God, I paid so much  money for that ticket. I'm going to fucking cry, oh God!" The girls seemed unphased. "God speed crazy gay dude," I thought to myself. "GaGa fan," my wife guessed. This became a game for her throughout the night; "Wook or Gaga."

The full moon heaved the throngs of people back and forth across downtown like the tides. A fine line between modest control and absolute chaos was drawn in the sands that night. Bumper-to-bumper traffic ebbed while waves of humanity Рfrom people dressed-up for the glammy festivities of the night to those who haven't showered for days Рflowed across the streets, between cars and across intersections with utter disregard for traffic laws.  People selling liquor from coolers, others selling a wide range "party favors" from their pockets or trunks of their cars, the streets of downtown Miami were lined with  nitrous tanks Рhundreds of people brandishing over-sized balloons, like some sort of twisted carnival. It was mayhem, but with only a (visibly) minor police presence, everybody maintained. I didn't see one violent or criminal (besides the open drug use) act. People of all groups were kind and friendly and despite being on the precipice of complete disorder; everything went off without a hitch.
This is my first Phish show. Part of the reason I never got involved is that it seems like another language, a cult with a secret handshake. It made being a late-coming fan just seem so daunting. Another thing was that the music didn't do much for me. I understand that these guys are master-musicians, and I love music that is heavy on improvisational jam, but Phish seemed like a nerdy jazz-fusion band with goofy lyrics. A good portion of my friends are hardcore Phish fans and some of my most musically knowledgeable friends are Phish heads as well. They just seem to care about music, so I had to experience Phish for myself.
There is almost no need to discuss Phish's musical prowess. These guys lay it down. Each member is absurdly talented, though I would have liked to see drummer, Jon Fishman, have some more power. His touch is unnervingly soft and delicate Рunbelievably precise Рbut very soft. I would love to see Trey let out an unrestrained banshee cry, kick over his mic stand,  and shred is guitar over his head, then run back and hump the guitar on the amp in an orgy of feedback and distortion Рbut I guess that's not really them. They don't have much stage presence (except on trampolines), but then again their music and the tender connection with their audience is far more powerful.
The first thing to notice is the raw energy of the crowd. It is uncanny, transforming a stale arena show into a festival.
People aren't texting and talking as much as I thought. They are hanging on every note, surging with the same energy on the streets and in the halls hours before the show as they are 3 hours into it. There is really nothing like it.
The set-list was stellar according to true fans and I felt like I was at a giant party for four hours. I have never attended an arena show that ended at 1:40 AM. They began the show with "AC/DC Bag" and continued through the night with 3 separate 1 hour and 20 minute sets. Following the New Year's celebration, Phish foisted one of their trademark gags on the crowd:
Drummer, Fishman, climbs into the disco ball that descended from the ceiling at midnight.

The ball was then loaded into a cannon which was to fire it into a net over the audience. The disco ball was shot through the roof instead of the net.
A helicopter then comes and lands on the roof, presumably to sweep Jon Fishman to safety. Then Phish are left without a drummer … or are they?!
A member of the audience is then chosen "at random." A girl comes down from the lower bowl and at some point behind the amplifiers she ducks down and Jon Fishman wearing the same outfit as the girl emerges. The unsuspecting crowd thinks this girl is sitting with Phish to play her favorite song, "Fluffhead." She (he) starts off shaky and then tears it up to the crowds amazement. I was sitting behind the stage at this point and could see it transpire. I actually saw it and was still duped for a few minutes. So at the end of the show, this "girl" who's been drumming comes out to take a bow. Jon Fishman ducks behind the amps again and the girl runs to center stage. Abra-cadabra bitches! Later, the drummer, comes out for the encore dressed as the girl to let everyone in on the gag. Ha ha, cray-zay!
SET LIST:
Set I: AC/DC Bag, 46 Days, Water in the Sky, Bathtub Gin, Punch You in the Eye, The Moma Dance, Guyute, Swept Away> Steep, Demand> Seven Below, Lawn Boy, Julius
Set II: Rock and Roll> Piper, Simple, Theme from the Bottom, Shine A Light, Ghost1> NO2, Suzy Greenberg
Set III: Party Time2> Auld Lang Syne> Down With Disease3, Fluffhead, Joy, The Squirming Coil, You Enjoy Myself
Encore: Blue Moon4, Lovin' Cup