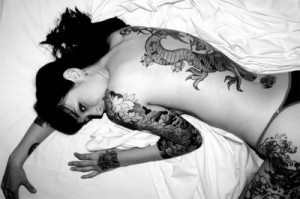 Little Dragon is back with a new album in Ritual Union and I couldn't be more excited. I've followed Yukimi Nagano and her crew of Swedish masterminds for a few years now. After my first exposure I noted that it is only a matter of time before LD "blows-the-fuck-up" to quote myself exactly. They possess the elusive mixture of great musical composition, pop sensibility, underground hipness, mass appeal, and explosive live performances. Topping it off: a gorgeous front-woman with an elegant, understated charisma.
A brief review: In 2009, a friend in San Francisco starts telling me about this great little band. Little Dragon visits Orlando in 2010 and plays an astounding show for about 40 people. Although the crowd is small, they are wildly engaged.  Later, Yukimi makes an appearance on Gorillaz 2010 album, Plastic Beach. LD returns to Orlando in early 2011 to play another mind-blowing show, this time, for a packed house. Since then, they worked with Big Boi (after he was tipped off by Andre 3000), performed on Late Night with Jimmy Fallon (at the request of Questlove), and contributed to albums by David Sitek and Rafael Saadiq. This leads us to Ritual Union.
Ritual opens with the title track and it sounds like Diamond Life going down on Amnesiac marrying layered, dreamy pop with soulful vocals. "Brush the Heat" is reminiscent of later Dee-Lite with Yukimi's playful sultry voice sliding gracefully through the skating rink disco beat and piles of synth. "Shuffle the Dream" swaggers through 80's pop territory with its steady, walking electronic bass line and "Nightlight" reveals a more mature and progressive sound while maintaining all that is great about Little Dragon. "Summertearz," a song debuted on their last tour, is one of my favorites. Riding a slinky beat and loops of percussive instrumentation, harmonized vocals charge directly out of my speakers and down through my man parts. This band is just getting bigger and bigger and Ritual Union is the oversized party bus to drive their fat sounds farther.
Ritual Union by Peacefrog Records
Written for Tampa's Suburban Apologist