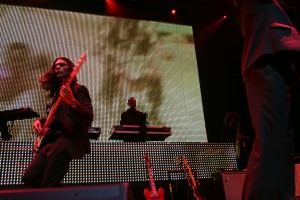 Thievery Corporation opened up the double headlining show and powered through a more uptempo set than usual. They were heavy on the reggae and the percussion, pumping up the large crowd for one of the most anticipated electronica shows I've seen. Thievery dug into tunes from Radio Retaliation like "Sound the Alarm," "Radio Retaliation," and "The Numbers Game" and peppered in classics like "Lebanese Blonde" and "Richest Man in Babylon."
Massive Attack brought a dazzling light show with lasers and a large multi-panel LED display than ran the span of the stage and was slatted like horizontal blinds. It displayed everything from subliminal worldwide brand logos to shapes and colors or real-time staggering statistics about how terrible the world is. I walked away feeling awful being a westerner – but whatevs!! It was a great show. They maintained their dark, brood-y sounding electronica and sometimes pushed to outright industrial rock.
I thought MA was great, but the consensus outside seemed to be in favor of TC's eclectic, high energy show.