Fuck! I'm either completely out of the loop (impossible!) or The Crowes did nothing to promote this show at HOB. I just learned about it yesterday and, sadly, cannot attend. But you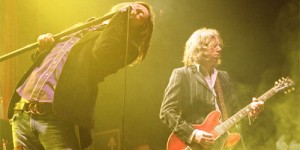 should! The BC's are relentless rock n roll machines and can arguably be noted as one of the greatest American rock bands of the last 20 years. To me, they are a "jam band" with the jangle of the Allman Brothers, the sweep of the Dead, and the heavy swagger of Zeppelin. It's fun to hear them jam because they have great songs at the core, some funky, some sweet, some rock, but nearly all deliver and they have the power and authority to drive them nearly anywhere they want.
The songs are catchy and powerful on their own, but you add the rock crunch of drummer Steve Gorman, possibly the best rhythm guitarist (a lost art) in the biz with Rich Robinson, southern / blues style lead guitar mastery of Luther Dickinson (who replaced virtuoso, Marc Ford), the golden pipes and panache of Chris Robinson and you have a real rock n roll band. A band that can expand and contract, swell and surge with more power and rock glory than most "jam" bands – real rockers, not sandal shaking noodlers.
Some live video I found. The following are not Kisses and Noise concert video …
A new dixie-land style version of Southern Harmony's "Hotel Illness"
"Non-Fiction" from Amorica
"Descending" a sweet ballad that ends Amorica. I can't believe they are playing this now.
A pretty, sauntering version of Three Snakes and One Charm's "Bring On, Bring On." Kind of an experimental ballad on the album, the live version brings this winding, elegant intro and build straight into the song. Nice.