I was never into M. Ward. I never understood what he was all about, but I never really took the time to investigate. He keeps company with all the right people: Yo La Tango, Jenny Lewis, My Morning Jacket and Neko Case, to name a few collaborators. Enter: Zooey Deschanel. I wasn't sure who she was either – name sounded familiar. Whatever obscurity they shared independently in my narrow view was obliterated with the formation of their joint effort, She and Him.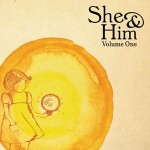 Volume One is a wonderful collection of music. Deschanel'Äôs voice is fragile, haunting, and versatile throughout the album. Although one can hear the jazz crooner within her on every song 'Äì especially 'ÄúTake it Back'Äù 'Äì she moves comfortably from '60s/'70s pop in the vein of Carole King (as in 'ÄúSentimental Heart'Äù and 'ÄúThis is not a Test'Äù) to the Patsy Cline-ish 'ÄúChange is Hard.'Äù Deschanel'Äôs angelic voice brings an elegant charm and whimsy to M. Ward'Äôs dignified, low-fi production.
"Why Do You Let Me Stay Here?" is my early frontrunner for the best song of 2008. The simple, driving melody accompanied by the Spector-ish hugeness of Zooey's echoed voice and wall-of-sound approach to her own back-up vocals make an undeniable pop gem which begs to be heard over and over. Volume One is a sweet surprise, Ward and Deschanel seemingly come out of nowhere with a brilliant soundtrack for spring.
Article originally appeared in REAX #24, May 2008