The 5th song of 44 from the monumental Teargarden by Kaleidyscope is out. The last 4 were captured in the EP Songs for a Sailor and "Freak" marks the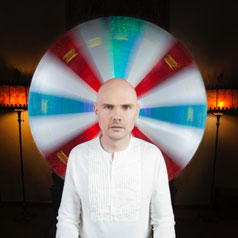 beginning of the next EP, The Solstice Bare. "Freak" sees Billy returning to form; innovative guitar, poignant lyrics wrapped up in a grinding, yet catchy rocker complete with a scathing socio-political vantage. The opening line is particularly incisive considering the recent trouble in the Gulf, a place where Mr. Corgan has family and musical ties.
The mighty SP is currently on an intimate club tour that is receiving positive reviews despite even more change within the band. New drummer Mike Byrne is filling the enormous shoes of Jimmy Chamberlin nicely and bassist Nicole Fiorentino replaces new mother Ginger Reyes. Billy is so happy with the energy and attitude of this new line-up that he held up the search for a new keyboard player in order to rock out with a lean, mean four piece. Since the band's return in 2007 they were the subject of controversy and anger. Billy insists on surging forward with new music while most fans want nostalgia shows. On top of that, their live shows have been 2.5 to 3 .5 hour prog-metal face melters which further alienated some attendees. Personally, I thought it was completely rad.
[media id=44]
The new band is playing a wide range of the Pumpkins spectrum from Gish to this song, "Freak" in raw, succinct shows just under 2 hours and are treating fans to intimate soundcheck concerts during the day consisting of unreleased music. Bill Corgan and friends will be at the House of Blues in Orlando on Monday July 19 and The Ritz in Ybor on Wednesday. If you are discounting them, you better not. Here's some live footage to psych you up.
"Tristessa" from Record Store Day at Amoeba Records in L.A
"As Rome Burns" from The Viper Room – Tour kickoff
"Owata"
"Make it Happen" from the special pre-concert soundcheck concerts on this tour.